Joe Yonan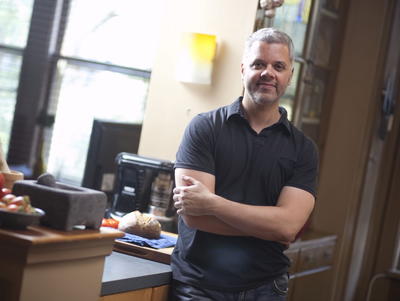 Did you know?
Joe is spent 2012 homesteading in Maine. He moved to the woods on January 1 and says the first two months there were dominated by wood: cutting, splitting, stacking, hauling, and of course burning it.
Joe's Featured Recipe
Joe Yonan is the food and travel editor for The Washington Post, where, among other things, he writes the monthly column "Cooking for One."
Joe is the author of Serve Yourself: Nightly Adventures in Cooking for One, and the coauthor of The Fearless Chef with Boston chef, Andy Husbands.
Before moving to Washtington and joining the Post in 2006, Joe worked for the Boston Globe.
He earned a professional chef's diploma from the Cambridge School of Culinary Arts in Massachusetts, and a bachelor of journalism in 1989 from the University of Texas at Austin.
His writing for both the Washington Post, and The Boston Globe have appeared in three editions of the anthology of Best Food Writing.
Joe says he was born in Albany, Georgia, "the same year the local high school's head cheerleader was none other than Paula Deen." His familymoved to San Angelo, Texas, before he was a year old.
Joe currently lives in Maine, but when not braving the north woods, he lives in Washington, DC. For his blog, go to.joeyonan.com
Cookbooks, etc