Jody Adams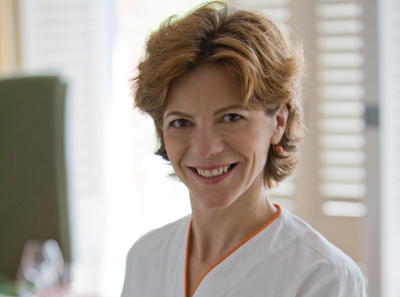 Did you know?
Although Jody opened Rialto in 1994, Esquire Magazine was so taken with the 2007 renovation of the resaurant that they named it one of the top 20 new restaurants of the year.
Jody's Featured Recipe
Jody Adams is the co-owner and chef of Rialto in Boston, Massachusetts, and has been part of the Boston culinary scene since 1983 when she worked under chef Lydia Shire at Seasons. Three years later she became Gorden Hammersley's sous chef at Hammersley's Bistro, and moved to Michela's in 1990 where she was executive chef until 1994. In 1994, she opened Rialto with partners Michele Larson and Karen Haskell.
The Boston Globe quickly awarded the restaurant four stars, the newspaper's highest rating. Jody recently opened her latest venture, Red Clay. In 1993 Food and Wine Magazine named Jody "one of America's ten best new chefs," and in 1997, Jody received the James Beard Foundation award for The Perrier-Jouet Best Chef Award: Northeast. In 2004 Gourmet named Rialto one of "world's best hotel restaurants." In 2006 Jody was awarded with the "Women Chefs & Restaurateurs Golden Whisk Award." In the Hands of a Chef is her first cookbook.
She lives in Somerville, Massachusetts, with her husband, Ken Rivard, and their two children. Jody is a strong supporter of Partners In Health, Share Our Strength and The Greater Boston Food Bank.
Cookbooks, etc