Jinx Morgan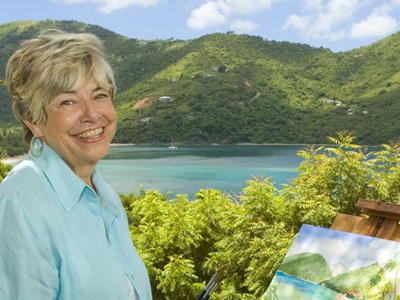 Did you know?
Four of Jinx's paintings hang on the walls of the Legislative Council of the British Virgin Islands and one of her paintings is on display at Government House. In 2006, 15 of her watercolors were included in a show in London at BVI House.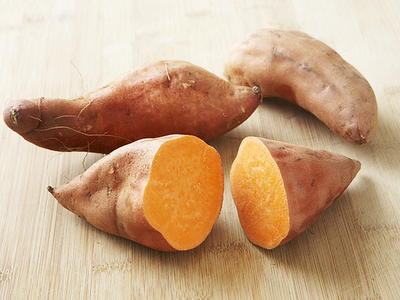 Jinx's Featured Recipe
Sweet-Potato Waffles with Orange Butter
Jinx Morgan is a restaurateur, hotelier, cookbook author, food and travel writer, and water color artist. She and her husband Jeff own the Sugar Mill Hotel on the Caribbean island of Tortola, which is known for serving some of the best food in the islands.
With Jeff, Jinx wrote The Sugar Mill Caribbean Cookbook and Two Cooks in One Kitchen. In 1965, shortly after she graduated from college, she and her former roommate Judy Perry wrote Saucepans and the Single Girl. The book was re-issued in 2006, with a new introduction and some updating. Bon Appetit magazine said the book was "so retro, it's cool again."
Jinx and Jeff were contributing editors for Bon Appetit magazine for more than 25 years. Jinx was a contributing food and wine editor for American Airlines in-flight magazine, as well.
Both Jinx and Jeff are native Californians, but for more than 20 years they have owned the Sugar Mill Hotel on Tortola in the British Virgin Islands, which they call home. In the slow seasons, they travel the world and write about their culinary and other adventures for a number of magazines and other publications.
The restaurant at the Sugar Mill Hotel was named "The island's top boutique hotel and its finest restaurant," by Caribbean Travel & Life magazine. Celebrated Living, American Airlines' magazine for its first class and business passengers, put the Sugar Mill on its platinum list as one of the three best restaurants in the Caribbean and Mexico. Conde Nast Traveller has named it one of the 10 best hotels in the Caribbean.
Jinx is a respected water colorist, primarily painting scenes of the beautiful Caribbean island she calls home.
Her websites are www.watercolorsbyjinx.com and http://www.sugarmillhotel.com/