Jim Stott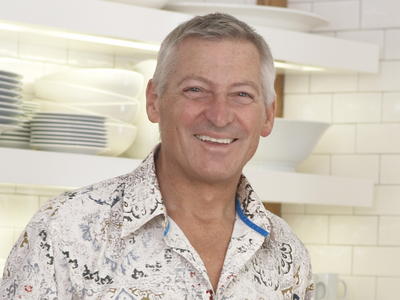 Did you know?
Jim is something of a born salesperson. He said he has sold t-shirts and kites in Hampton Beach, New Hampshire, and when he was a kid, had a profitable newspaper business.
Jim's Featured Recipe
Jim Stott is co-owner of Stonewall Kitchens, based in Maine. With partner Jonathan King, he built the company from a table at a farmer's market to a multimillion dollar nationally known brand.
Jim and Jonathan are coauthors of seven Stonewall Kitchen cookbooks, six written with Kathy Gunst. The books written with Gunst are Stonewall Kitchen Breakfast, Stonewall Kitchen Appetizers, Stonewall Kitchen Grilling, Stonewall Kitchen Winter Celebrations, Stonewall Kitchen Favorites, and Stonewall Kitchen Harvest. On their own, Jonathan and Jim wrote The Stonewall Kitchen Cookbook: Favorite Pantry Recipes.
The two men met when both were waiting tables and pursuing other interests. They discovered a shared interest in cooking and horticulture and began making jams, jellies and condiments as a hobby. In 1991, a friend suggested they try selling their wares at a New Hampshire farmer's market. The sold out of product on the first day and after a few weeks of success, decided to start a business.
In 1996, they were urged to take their products the Fancy Food Show in New York City, sponsored by the National Association for the Specialty Food Trade. The show attracts vendors from all over the world and so it was no small feat when Stonewall Kitchens won a juried award for Outstanding Jam for their Roasted Garlic Onion Jam and a second place for Outstanding Product Line. After that first show, they left with 500 orders.
Today, Stonewall Kitchens has a thriving wholesale as well as retail business. The company has a national presence, although its headquarters are in York, Maine, where there is retail shop, cooking school, and café — as well as the company's test kitchens and offices.
Stonewall Kitchens has been awarded the Governor's Business Excellence Award for the State of Maine. They were also chosen as the Entrepreneurial Business of the Year by the state's Small Business Association.
Jim lives in Maine. The company's website is http://www.stonewallkitchen.com/