Jennifer Katzinger
Did you know?
In 2010, after giving birth to her daughter Lily, Jennifer sold the bakery. She continues her work as a recipe consultant and cookbook author.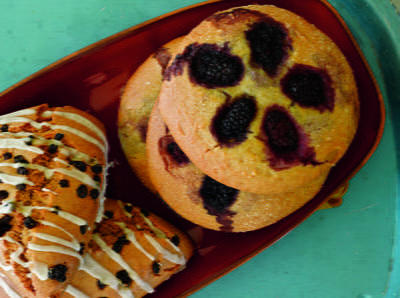 Jennifer's Featured Recipe
Berry Tea Biscuits
Jennifer Katzinger is a chef and author. She is famous for serving up tasty and delicious baked goods to those with celiac disease, and for others on a gluten-free diet.
She is the author of five cookbooks including Flying Apron's Gluten-Free and Vegan Baking Book, Gluten-Free and Vegan Holidays, Gluten-Free and Vegan Bread, Gluten-Free and Vegan Pie, and Honey & Oats.  
A Northwest native, Katzinger grew up baking and in 2002 she opened Flying Apron Bakery with her father in the University District of Seattle, WA.
What led Jennifer to purge her work of gluten and wheat was the ecstatic response of customers. Wheat and gluten intolerance are actually common allergies, and on top of that, there's Celiac disease.
The responses of her customers, some of whom would burst into tears when they found themselves in a bakery they could actually eat at, deeply affected her.