Jennifer Felicia Abadi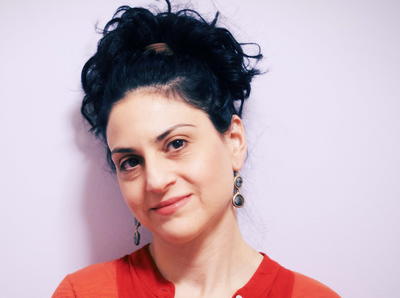 Did you know?
Jennifer and her grandmother taught a televised cooking class on Syrian cooking. She says, "The stories that my grandmother told to the students were as much a part of the experience as the cooking itself."
Jennifer Felicia's Featured Recipe
Jennifer Abadi lives in New York City and is a researcher, developer, and preserver of Sephardic and Judeo-Arabic recipes and food customs. A culinary expert in the Jewish communities of the Middle East, Mediterranean, Central Asia, and North Africa, Jennifer teaches cooking at the Institute of Culinary Education (ICE) and at the Jewish Community Center Manhattan (JCC). She also offers private lessons and works for a variety of clients in the New York City area as a personal chef. Her area of expertise covers a range of cuisines, such as Syrian, Moroccan, Algerian, Iraqi, Egyptian, Ethiopian, Yemenite, Persian, Greek, Armenian, Georgian, and Turkish (just to name a few!), all of which she can customize to your needs.
In addition to teaching, Jennifer provides Jewish food and culture tours on Manhattan's Lower East Side.
Her first cookbook-memoir, A Fistful of Lentils: Syrian-Jewish Recipes From Grandma Fritzie's Kitchen, is a collection of recipes and stories from her family.
Her second cookbook, Too Good To Passover: Sephardic & Judeo-Arabic Seder Menus and Memories from Africa, Asia and Europe, specializes in traditional Sephardic, Judeo-Arabic, and Central Asian recipes and customs (covering both pre- and post-Passover rituals) appealing to Sephardic, Mizrahic, and Ashkenazic individuals who are interested in incorporating something traditional yet new into their Seders. A compilation of more than 200 Passover recipes from 23 Jewish communities, this cookbook-memoir provides an anthropological as well as historical context to the ways in which the Jewish communities of North Africa, Asia, the Mediterranean, and Middle East observe and enjoy this beloved ancient festival.
(Please note: this cookbook is NOT JUST FOR PASSOVER, but something for ALL YEAR ROUND! It is not a coffee table cookbook, but one that is meant to be read, referred to, and cooked from for years to come. It is a cookbook...for secular Jews as well as the most observant; for those who are doing a Seder for the first time or who have done many and are looking to do something different; for those who have converted, are looking to convert, or simply want to understand what Passover is about; for the young and the old who cherish stories and history; for those who love to travel and learn about other cultures; and lastly...for those who simply love good food and want more than just a book full of recipes and pictures with no context.)
Please follow Jennifer on her blog www.TooGoodToPassover.com
or on Instagram: https://www.instagram.com/jenniferabadi/
For further information on Jennifer's classes, lectures, demos, and other events, please review her website: www.JenniferAbadi.com.