Jean-George Vongerichten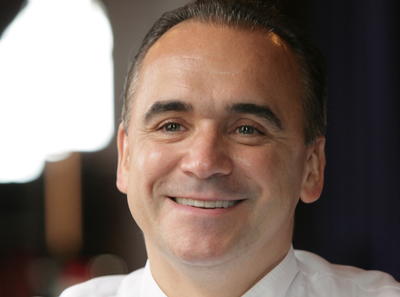 Did you know?
Jean-Georges' love for food cemented into his choice of a career when, at the age of 16, his parents took him to the three-star Michelin-rated Auberge de l'Ill for a birthday dinner.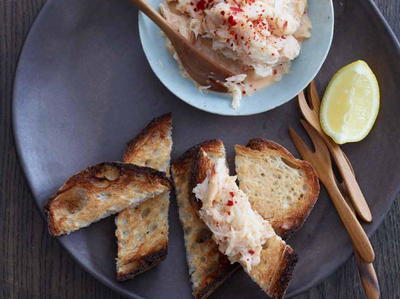 Jean-George's Featured Recipe
Crab Toasts with Sriracha Mayonnaise 
Jean-Georges Vongerichten, one of the world's most celebrated chefs, commands a global empire of restaurants that includes venues in London, Paris and Shanghai, as well as New York's three-Michelin-starred Jean Georges Restaurant. He very recently opened two new restaurants: one in Mexico and another in Atlanta, Georgia.
He is author of four cookbooks. Simple Cuisine: Easy Recipes for Four-Star Food (1991), Jean-Georges: Cooking At Home with a Four-Star Chef with Mark Bittman (1998), Simple to Spectacular: How to Take One Basic Recipe to Four Levels of Sophistication with Mark Bittman (2000), and Asian Flavors of Jean-Georges (2007).
Born and raised on the outskirts of Strasbourg in Alsace, France, Jean-Georges says his earliest family memories are about food. He began his training as a teenager in a work-study program at the Auberge de l'Ill . He worked with some of the top chefs in France, including Paul Bocuse and Louis Outhier. With his three-star Michelin training, Jean-Georges won a position at the Oriental Hotel in Bangkok. From 1980 to 1985, he opened ten restaurants around the world, including one at the Meridian Hotel in Singapore and another at the Mandarin Hotel in Hong Kong.
Jean-Georges arrived in the United States in 1985, when he opened the Lafayette restaurant in Boston. A year later he arrived in New York to take over the executive chef position at Lafayette in the Drake Swissôtel, and generated critical acclaim with his updated interpretations of classic French cuisine and earning four stars from The New York Times at the age of 29.
Jean-Georges opened his bistro JoJo in 1991, which was named Best New Restaurant of the Year and earned three stars from The New York Times. His next New York venture, Vong, paid homage to his passion for the spices and flavors of the East. In 1997, Jean-Georges opened Jean-Georges Restaurant in the Trump International Hotel and Tower, earning a four-star review from The New York Times less than three months after opening, and the "Chef of the Year Award" from John Mariani at Esquire magazine. Two more Vong restaurants subsequently opened in London and Hong Kong.
In 1998 Jean-Georges was awarded three medals at the James Beard Restaurant Awards: ­ Best New Restaurant, Outstanding Chef, and Who's Who of Food & Beverage. It was the first time that a chef was awarded best new restaurant and outstanding chef in the same year.
The Mercer Kitchen opened in July 1998 in the Mercer Hotel in Soho. Another addition to the Jean-Georges repertoire in 1998 was the Prime Steakhouse in Steve Wynn's Bellagio Hotel in Las Vegas. In 2004, Jean-Georges opened Spice Market (Southeast Asian street food) in New York and in 2005, Perry Street (French-American), as well as the Chambers Kitchen in Minneapolis in 2007. Nougatine, Matsugen, and 66 followed.
Jean-Georges and partner Phil Suarez have formed a company with Starwood Hotels & Resorts Worldwide. Jean-Georges is also opening a restaurant at the Hotel Shangri-La Vancouver, a luxury hotel owned by Shangri-La Hotels and Resorts. For more information visit www.jean-georges.com.