Jane Butel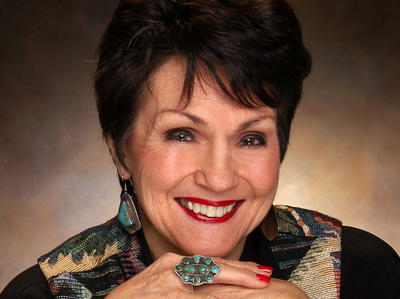 Did you know?
Jane recommends that everyone eat a good fat pinch of chile every day. At least. Why? "You will be amazingly more healthy," she says, and the chiles will "ward off the ravages of stress-induced diseases."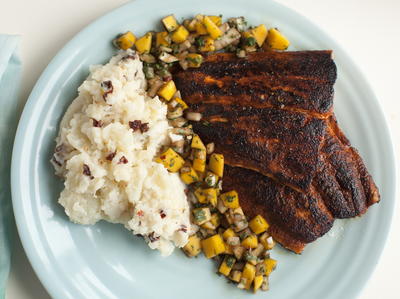 Jane's Featured Recipe
Chile-Seared Salmon
Jane Butel is credited with starting the Tex-Mex mania when she first published cookbooks about New Mexican and American Mexican food in the 1960s. Her earliest book is called Favorite Mexican Foods and others include Jane Butel's Southwestern Kitchen, Chili Madness, Jane Butel's Tex-Mex Cookbook, and Real Women Eat Chiles. With 22 books under her western belt with the silver-and-turquoise buckle, she most recently published Jane Butel's Best of Southwestern Grilling Meat, Poultry and Fish
Jane, the daughter and granddaughter of home economists, is an internationally recognized authority on the regional cooking of the American Southwest. As well as being a cookbook author, she is also a cooking teacher and television personality. Her television show, Jane Butel's Southwestern Kitchen, aired nationally on PBS for 8 years.
She has consulted with major restaurant chains such as Del Taco, El Torrito and Zona Rosa, as well as with luxury hotels. Jane is in the 31st year of operating her own cooking schools in various locations in New Mexico and Arizona. Jane's Cooking School specializes in week long and weekend full-participation classes on New Mexican, Southwestern cooking and Regional Mexican cooking. She is known for her strength in teaching the techniques of cooking and the history of the dishes. Bon Appetit magazine credits her Cooking School as the "Best in the U.S." vacation school.
At her satellite Cooking School (which operated until 2008) in the award winning La Hacienda restaurant in the Fairmont Scottsdale Princess Resort in Scottsdale, AZ., she specialized in teaching favorite Regional Mexican dishes, simplified. The Schools have received rave reviews from the culinary press including being rated as one of the 10 best hotel cooking schools in the world by Gayot hotel rating service.
Jane is listed in Who's Who in American Women, Outstanding Young Women, and Platinum Who's Who and the World Who's Who. She is a member of the New York City chapter of Les Dames d'Escoffier and the International Association of Culinary Professionals among other affiliations.
Jane lives in New Mexico. Her website is www.janebutelcooking.com.
Latest Recipes





(2 Votes)