James Canora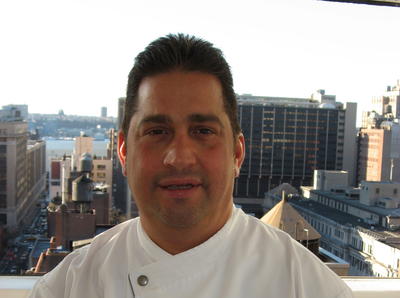 Did you know?
James graduated from the Art Institute of Manhattan
James Canora currently is the corporate consulting chef for Delmonico's Restaurant  in Manhattan and is the coauthor with Judith Choate of Dining at Delmonico's: The Story of America's Oldest Restaurant.  James oversees the restaurant's product line as well as national, and international events.
Dining at Delmonico's won a Gourmand World Cookbook Award in the "Best in the USA" catergory with a special award from the jury, and "Best in the World" for the USA in 2010.
He is a 15-year member of United Airlines Congress of Chefs, serving as the celebrity chef for the Northeast. His mission is to travel the region and spread the word about the airline's Business First culinary program. 
James also is the chef/owner of NYC Culinary Events, a nationally recognized food consulting and catering firm, which has provided consulting or catering for events such as the Masters Golf Tournament, the Ryder Cup, the Breeders Cup and the USTA for the U.S. Tennis Open.
James hond his culinary skills at New York's Tribeca Grill under Chef Don Pintabona. During his ten-year tenure there, he came to be responsible for all national and international special events and was project manager for The Tribeca Grill Cookbook and The Shared Table. Both books were coauthored by Judith Choate. 
James promoted The Tribeca Grill Cookbook in Israel, Australia , Brazil and the UK, where he  was featured on national news programs including Good Morning Australia. During this time, he assisted Chef Pintabona in Sicily for the Food Network's My Country, My Kitchen, produced by award-winning producer Irene Wong.
James has been featured in the Washington Post and Global Traveler Magazine. He was a guest judge for Top Chef on Bravo with Anthony Bourdain.
He donates a lot of time to The James Beard Foundation, The Taste of the NFL, The National Foundation for the Advancement of the Arts, Share our Strength, and his favorite, Lifebeat, a music industry effort to reach America's youth about HIV/AIDS prevention. Website:  www.nycculinaryevents.com