Isabel Cruz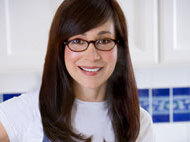 Did you know?
Writing in The Oregonian, David Sarasohn said of Isabel's food: "It's as if someone invaded the whole concept of fried rice and rendered it healthful, not to mention highly tasty."
Isabel's Featured Recipe
Isabel Cruz is a restaurateur and cookbook author with several restaurants on the West Coast. She has created a healthful style of cooking that blends Latino and Asian flavors and techniques — a style that she says results in fresh, exotic food with bold flavors.
Isabel's book, Isabel's Cantina: Bold Latin Flavors from the New California Kitchen, was named one of the most notable books of 2008 by the New York Times.
She grew up in Los Angeles in a large Latino family, exposed to the cooking of Puerto Rico, Mexico and Cuba. She is a self-taught cook who learned from family members and friends to love the food of her heritage. Later, she was inspired by the cooking of local Japanese, Korean and Thai cooks. When these two influences met, Isabel's cooking took off.
Isabel incorporated her culinary vision into various dishes on her menus for a modern, healthful cuisine that today she says is a clean, simple, and nutritious.
Isabel lives in Los Angeles. Her website is isabelscantina.com/
Cookbooks, etc