Hugh Fearnley Whittingstall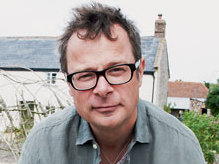 Did you know?
Hugh was born in London, but grew up in Gloucestershire. He is the son of author and broadcaster Jane Fearnley-Whittingstall.
Hugh Fearnley's Featured Recipe
Hugh Fearnley-Whittingstall is a writer, broadcaster and campaigner for his uncompromising commitment to real food and honest home cooking. His series for Channel 4 have earned Hugh a huge popular following.
He is the author of many publications such as River Cottage Fish Book, Hugh's Three Good Things, and Hugh Fearlessly Eats It. River Cottage books have collected multiple awards including the Glenfiddich Trophy and the James Beard Cookbook of the Year. He also writes for the Observer Food Monthly.
In 1998 Hugh moved into the original River Cottage in Dorset, to start growing and rearing some of his own foods. River Cottage has since moved on, and grown. Hugh and his team of food experts operate out of River Cottage HQ, a 17th century farmhouse and 60 acres of land based at Park Farm near Axminster. HQ is now a venue for courses and events following the River Cottage food philosophy, and celebrating the very best local, seasonal food.
Hugh lives in Devon with his wife and four children. Visit his website: www.rivercottage.net
Cookbooks, etc