Hiroko Shimbo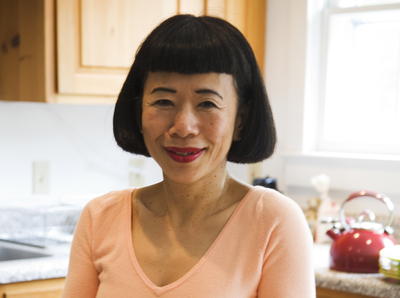 Did you know?
Hiroko took several years to write The Japanese Kitchen. She visited artisanal food producers across Japan to gather first-hand information about how products are grown and manufactured.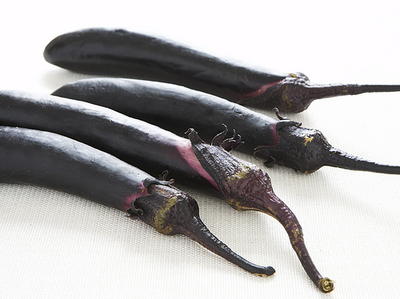 Hiroko's Featured Recipe
Eggplant Disks with Miso Sauce
Hiroko Shimbo is a trained sushi chef, restaurant consultant, cooking instructor, and cookbook author.
Hiroko has written three cookbooks. Her first two award-winning books, The Japanese Kitchen (Harvard Common Press, 2000) - IACP Finalists, Food & Wine magazine Best of The Best, and Cooking Light magazine Top 100 Cookbook of the Last 25 Years - and The Sushi Experience (Knopf, 2006) - James Beard Foundation Finalist, are considered primers on Japanese cuisine and continue to attract professional chefs and home cooks.

Her most recent book, Hiroko's American Kitchen: Cooking with Japanese Flavors (Andrews McMeel 2012) has recently won IACP Cookbook Award 2013 under American Category. Hiroko's American Kitchen offers an entirely new perspective on Japanese cooking. Rather than teaching how to cook authentic Japanese cuisine, she focuses instead on integrating Japanese flavors, cooking techniques and staples onto the North American table.
Hiroko began her career in 1989 in Tokyo by opening Hiroko's Kitchen, where she introduced the art of Japanese and Asian cooking to the foreign community in Japan. In 1999, Hiroko moved to New York and as well as working on her writing, she consults for the food and restaurant industries, specifially helping restaurants that want to enter the Japanese restaurant industry. She helps restaurateurs realize their concept, develops recipes and menus and helps with staff training and instruction manuels.
Hiroko is a contributor to Zester Daily, member of International Association of Culinary Professionals and Les Dames d'Escoffier New York chapter. She lives in New York City and her website is www.hirokoskitchen.com.