Green City Market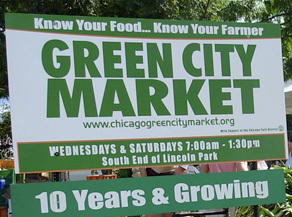 Did you know?
Green City Market showcases sustainable practices. From that first year in 1998 next to the Chicago Theatre to the present time, Green City Market has morphed into Chicago's most vital farmer's market that industry leader Alice Waters calls "the best sustainable market in the country."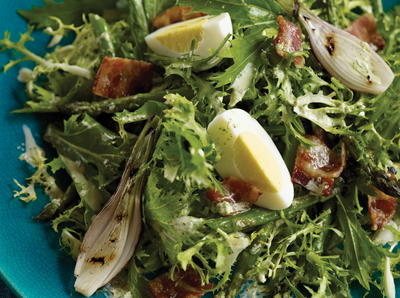 Green City's Featured Recipe
Artful Asparagus Salad
Green City Market is a not for profit organization celebrating their 16th anniversary. The mission of Green City Market is to provide a marketplace for purchasing sustainably grown food and to educate, promote and connect farmers and local producers directly to chefs, restaurateurs and the greater Chicago community. Green City Market values education about quality food and its source. They value farmers who take care of the land; the preservation of sustainably farmed land; a vibrant thriving community of local farms; and consumption of locally grown foods.
Green City Market's (GCM) incredible momentum comes from their broad base of support including conscientious and caring farmers and producers, consumers, chefs, restaurateurs and other culinary professionals. It also reflects Chicagoans' increasing concern for a more sustainable food system by improving the quality of food on their tables produced by local farmers using organic and sustainable practices that preserves the environment for future generations. GCM's support of these local artisan farmers and producers increases the density of fresh, high-quality, locally produced food in Chicago, and provides the basis for a regional cuisine.

After visiting European sustainable farmer's markets in 1998, Abby Mandel, chef, author and entrepreneur, returned to Chicago determined to create a similar market in her own city. Green City Market was her brainchild and began as a small startup with nine local farmers in the crosswalk next to the Chicago Theatre. The Market quickly outgrew the location and moved to the south end of Lincoln Park where it currently operates May - October. Four years ago, the Market continued to remain open November - December, first in the Lincoln Park Zoo and later moving to The Peggy Notebaert Nature Museum.

The Market experienced record crowds closing 2013 with 8,000 to 10,000 visitors each Saturday and 2,000 to 3,000 visitors on Wednesdays. From January - April, Green City Market operates in the Peggy Notebaert Nature Museum each Saturday. Weekly market attendance year round has increased steadily since April of 2009 when the market began opening throughout the winter as consumers continue to seek out and buy locally grown food directly from the farmers. Green City Market provides this opportunity year round.