Gordon Ramsay
Did you know?
Clearly it's time for Gordon to open a restaurant in Australia, where he plans to launch maze, a restaurant taking influence from its British namesake. This will give him culinary stakes on five continents.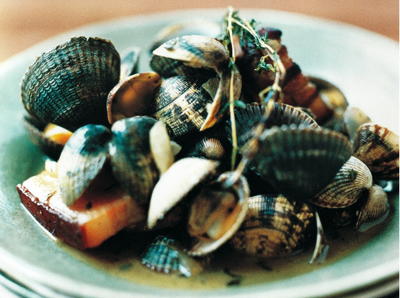 Gordon's Featured Recipe
Clams with Bacon
Gordon Ramsay is a chef, restaurateur, television personality, and cookbook author. His first book, Passion for Flavour, was published in 1996 and his most recent is Gordon Ramsay's World Kitchen, which was published in 2009.
In the United States, Gordon is perhaps best known for his television program, Hell's Kitchen. The show just finished its sixth season and was seen by more than 14 million American viewers.
In 1998 at the age of 31, Gordon set up his first wholly owned restaurant, Gordon Ramsay, in London's Chelsea neighborhood, and in early 2001, it won its third Michelin star. Later that year, he opened Gordon Ramsay at Claridge's, which won a Michelin star in 2003. He next opened his first international restaurant, Verre, located in the Dubai Hilton Creek Hotel, which was followed by St. James's. The restaurant relocated to The Berkeley Hotel in 2003 and won its second Michelin star in January 2007.
Gordon Ramsay Holdings (GRH) took over the food and beverage operation at London's Connaught Hotel in 2002, and in 2003 his company re-launched The Savoy Grill — and won another Michelin star in 2004. This was followed with the opening of Boxwood Café.
Other restaurants include: GRH's eighth UK restaurant, maze, in London's Grosvenor Square; Gordon Ramsay at The Conrad Hotel in Tokyo; Gordon Ramsay at The London in New York's London Hotel; Cielo at the Boca Raton resort in Florida; The Narrow, on the banks of the River Thames in London's Limehouse; The Devonshire in West London; The Warrington in Maida Vale; and the Foxtrot in Chelsea, all in London. He also opened the fifth international Gordon Ramsay restaurant at the Ritz Carlton Hotel Powerscourt in Ireland and Gordon Ramsey at The London in West Hollywood, California.
Gordon Ramsay Plane Food is his venture at the newly built Heathrow Terminal 5 in London. He has stakes in Murano in London's Mayfair district, and York & Albany in London.
Recent ventures include maze by Gordon Ramsay at The One & Only Cape Town in South Africa; Gordon Ramsay at Forte Village in Sardinia; and Contrada at Castel Monastero in Tuscany. GRH and Lyndy Redding acquired London's Tante Marie Cookery School in 2008.
Other than the already-mentioned titles, he has written numerous books, including: Gordon Ramsay Makes It Easy; Gordon Ramsey's Healthy Appetite; Gordon Ramsey Maze; A Chef for All Seasons; Gordon Ramsey's Great British Pub Food; In the Heat of the Kitchen; Gordon Ramsay's Just Desserts; Gordon Ramsey's Sunday Lunch; and Gordon Ramsay's Fast Foods.
Gordon was born in Scotland but moved with his family to Stratford-upon-Avon, England, when he was five years old. Although he wanted to be a professional football player (soccer), an injury put an end to that dream and instead he went to college to study hotel management.
Gordon's first years in the kitchen were spent training under English culinary luminaries such as Marco Pierre White and Albert Roux in London, after which he moved to France where he worked in the kitchens of Guy Savoy and Joël Robuchon. In 1993, Gordon became chef of the newly opened Aubergine, and within three years the restaurant was awarded two Michelin stars.
In 2004, Gordon starred in the British television show, Ramsay's Kitchen Nightmares, later to be awarded a BAFTA and an International Emmy. Shortly after this, Gordon was given two weeks to direct a group of celebrities as they tried to attain Michelin-standard cooking in the ITV series Hell's Kitchen. A second series of Ramsay's Kitchen Nightmares was followed by the debut of Britain's Channel 4's The F-Word, a high-octane food show with cooking, topical VT's, food campaigns and celebrity guests.
In early 2008 Gordon Ramsay Holdings and Lyndy Redding announced their acquisition of the acclaimed Tante Marie Cookery School in London.
His website is http://www.gordonramsay.com/
Cookbooks, etc