Gordon Hamersley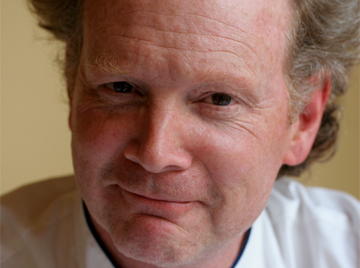 Did you know?
Hamersley's Bistro had one of Boston's first open kitchens. When guests watched Gordon cook, they couldn't miss his trademark Boston Red Sox cap.
Gordon's Featured Recipe
Gordon Hamersley, one of the most respected chefs in Boston, opened Hamersley's Bistro in the Boston's South End in 1987 with his wife and partner, Fiona. Before doing so, the couple lived in Nice, France, where they shopped, cooked, and ate in restaurants. They realized their favorites were the casual bistros that raised simple cooking to an art form, and so after a year in France, decided to return to Boston and work toward opening a bistro. Before that could happen, Gordon worked as sous chef to Lydia Shire (Locke-Ober) at the Bostonian Hotel.

Gordon started cooking as a student at Boston University in the early 1970s and began his culinary career at various French restaurants in the Boston area. In 1979, he moved to Los Angeles, where he trained at Ma Maison restaurant under Wolfgang Puck. He discovered the real potential of food and began to seriously hone his skills as a chef.

Hamersley's Bistro, which serves homey, French-inspired bistro food, quickly became one of Boston's favorites. Gordon has kept his cooking distinctive yet simple, and his food always reflects the freshest seasonal New England ingredients.

Gordon is a respected cooking teacher and mentor to many aspiring chefs. He served on the Board of Advisors of the New England Culinary Institute from 1997 to 2002 and he currently is part of several environmental groups that help protect New England's vast natural resources.

Hamersley's Bistro has received enthusiastic attention from magazines and newspapers such as Bon Appetit, Gourmet, Food & Wine and The New York Times and is consistently rated as one of Boston's top four restaurants in Zagat's Restaurant Guide. The restaurant has received four stars from both The Boston Globe and Boston Herald and has been inducted into the Nation's Restaurant News Fine Dining Hall of Fame. Hamersley has been named one of Food & Wine's best new chefs and has received the James Beard Foundation Award for Best Chef in the Northeast.

Gordon's first cookbook, Bistro Cooking at Home, won the International Association of Culinary Professionals (IACP) 2004 Cookbook Award in the Chefs and Restaurants category.

Gordon, Fiona, and their daughter Sophie live near Boston, Massachusetts. They spend as much time as possible in Vermont, enjoying the fishing, skiing and local bounty.