Glenn Rolnick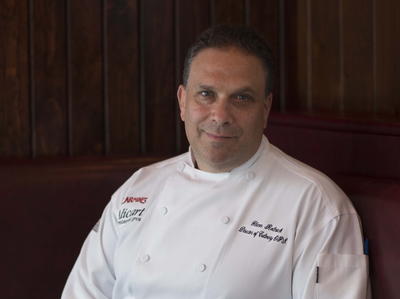 Did you know?
Chef Rolnick has also styled food shoots for dozens of publications including Gourmet Magazine, The Journal News, The New York Post, and The New York Daily News.
Glenn's Featured Recipe
Glenn Rolnick is the Director of Culinary Operations for the Alicart Restaurant Group, where he has worked for the last eleven years.  He is the author of Carmine's Celebrates: Classic Italian Recipes for Everyday Feasts, which teaches home cooks how to make more than one hundred dishes in happy-making quantities.

Glenn was born and raised in Rockland County, New York, where he first gained valuable cooking experience whipping up dishes for his family. He received rave "family reviews", and word spread quickly throughout the neighborhood. Soon, Rolnick began catering small functions for his neighbors.

Upon graduating with an Associate's Degree from Rockland Community College, Rolnick enrolled at the Culinary Institute of America, and was voted by his peers as "most likely to succeed." Soon after graduation, Rolnick landed his dream job at the world renowned Hotel Carlyle in New York City, where he was quickly promoted to Sous Chef after six months.
Shortly following, he became Executive Sous Chef at the United Nations Plaza Hotel, where he oversaw the hotel's dining rooms, banquets, events and room service, and cooked for world presidents and dignitaries.

With a desire to get "back to his roots," Rolnick returned to Rockland County and began a catering business where he catered hundreds of events each year. After six successful years, Rolnick decided to return to the restaurant world, and accepted a position as Executive Chef at the Algonquin Hotel in New York City, followed by a position as Executive Chef at the Dellwood Country Club in Rockland for five years.

He has has been profiled in Time Magazine, The New York Times, The New Yorker, and Food Arts Magazine. 
Cookbooks, etc