Giuliano Hazan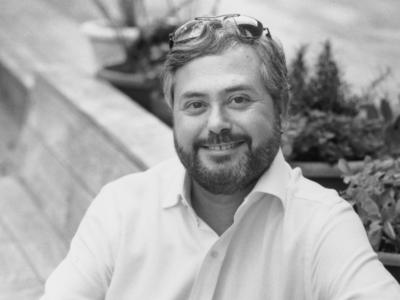 Did you know?
Of Italian food, Giuliano writes: "[It] does not hem and haw; it asserts itself proudly. If it were a painting, it would not be made of varying shades of beige but of the vibrant colors one sees on the houses in so many Italian towns."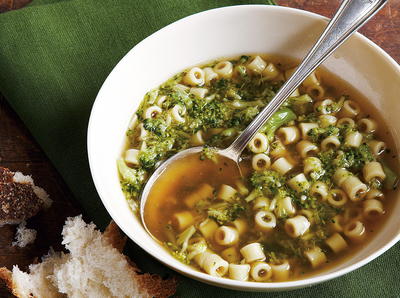 Giuliano's Featured Recipe
Broccoli Soup with Pasta
Giuliano Hazan is a cookbook author and teacher who focuses on Italian cooking. He is the son of Marcella Hazan and while he was clearly influenced by his mother's mastery of Italian cuisine, he has, without a doubt, carved out his own place in the culinary world.
Giuliano is the author of five books, all about Italian food. The most recent is Hazan Family Favorites, and the remaining four are Thirty Minute Pasta, How to Cook Italian, Every Night Italian, and The Classic Pasta Cookbook.
He recently released an app called Cooking Italian with Giuliano Hazan.
Giuliano has taught hands-on and demonstration-style courses at cooking schools in Europe and the United States for more than 30 years. From 1995 to 1999, he led courses at the legendary Hotel Cipriani in Venice — one class featured both his mother and Chef Nobu Matsuhisa. In the United States, his recent cooking school appearances include Sur La Table, Ramekins, and Central Market.
In 2000, Giuliano and his wife, Lael — along with partner, Marilisa Allegrini of the Allegrini Winery in Valpolicella — inaugurated a cooking school of their own called Cooking with Giuliano Hazan in Italy at Villa Giona, a restored Renaissance villa outside Verona. The team offer classes every fall and spring.
Giuliano and Marilisa have also launched A & H Selections to identify and import "made-in-Italy" food specialties including premium extra virgin olive oil made from prized Ogliarola olives grown in Apulia, and red wine vinegar made in the Valpolicella area near Verona.
Although he was born in the United States, Giuliano spent much of his childhood in Italy, where his mother ran a cooking school in Bologna. After graduating from Swarthmore College, he enrolled in the Trinity Rep Conservatory, a professional theater program in Providence, Rhode Island, but when he was not performing, he found himself teaching cooking at Peter Kump's New York Cooking School (now the Institute of Culinary Education). Both his love of the theater and his love of Italian food conspired to direct Giuliano to the cooking school classroom, which he has never left.
Giuliano and Lael live in Sarasota, Florida, with their two daughters Gabriella and Michele. His website is http://www.giulianohazan.com/ and his blog is http://www.giulianohazan.com/blog/. He also teaches three classes at Craftsy.com.