George Geary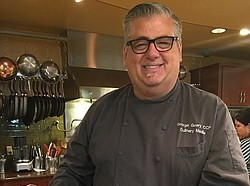 Did you know?
In the 1980s George produced all of the cheesecakes on the Emmy Award winning show The Golden Girls.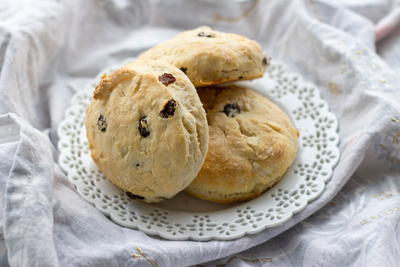 George's Featured Recipe
Sour Cream Raisin Biscuits from The Brown Derby
George Geary, CCP, is a cooking teacher, pastry chef, cookbook author, food writer, Award winning culinary tour guide, and spokesperson.
He is the author of many books: The Golden Age of Hollywood: Restaurants of a Bygone Era, 150 Best Donut Recipes, 350 Best Salads and Dressings, Get Dressed and Sauced: 500 Salad and Sauce Recipes; The Cheesecake Bible; The Complete Baking Cookbook: Over 350 Recipes from Cookies to Cakes to Pies to Muffins; 125 Best Food Processor Recipes; 125 Best Biscuit Mix Recipes; 125 Best Cheesecake Recipes; and 150 Best Donut Recipes. 
George has taught cooking for more than 30 years throughout the world. He has taught at the Institute of Culinary Education, The Cooks of Crocus Hill, Sur La Table, Cooks Warehouse, Publix's Aprons, Central Market, and Viking Culinary Centers and everywhere in-between.
He has been guest chef at the Rancho La Puerta spa, Marshall Fields in Chicago, FoodFest, Macy's, Montana Food and Wine Festival, and Yosemite's Cher's Holiday. He has also appeared on the Food Network.
For more than 30 years, George has led culinary tours of American cities and European capitols. He has taken groups to Los Angeles, New York, Chicago, New Orleans, Palm Springs, the Napa Valley, and Santa Barbara. He has led tours to the South of France, Belgium, Italy, and the cities of London and Paris. He also leads spousal tours for Fortune 500 companies such as, Johnson and Johnson, The Walt Disney Company, Mattel Toys, and Toyota. Last year George Geary Tours were awarded the IACP Culinary Tour Operator of the year award and the previous year Frommers awarded him Culinary Tour Guide of the year Foreign and Domestic 
He has been a spokesperson for Canola Oil, Driscoll's, Four Monks Vinegar, the U.S. Radish Council and the Los Angeles County FairPlex. He has worked as a pastry chef for the Walt Disney Company and the Marriott Corporation.
George has written for any number of publications, including USAToday, Wall Street Journal, Los Angeles Times, The Chicago Tribune, Washington Post, Pittsburgh Post-Gazette, San Jose Mercury News, Cincinnati Enquirer, and Austin American Statesmen, among others.
Currently George is a regular food spokesperson for San Diego Living on the WB Network.  He has appeared on television programs such as Hallmark Channels Home and Family, NBC Tampa's Daytime , Dayton Ohio's NBC Live and Upfront, Live in LA with Steve Edwards and Cindy Garvey; Travel Café; ABCs Mike and Maty; and Huell Housers's California Gold (PBS), and numerous radio programs.
George lives in Corona, California. His website is http://www.georgegeary.com/
#chefgeary