Gale Gand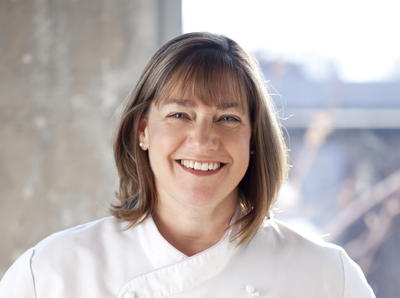 Did you know?
Gale produces her own artisan root beer, "Gale's Root Beer," which is available nationally.
Gale's Featured Recipe
Gale Gand is a James Beard Award–winning chef, cooking teacher, cofounder of the world-renowned restaurant TRU in Chicago, the former host of Sweet Dreams, a long-running Food Network baking show, a mom of three, and an expert lunch packer. She has appeared on Iron Chef America, Baking with Julia, and Oprah, and served as a judge on Bravo's Top Chef Just Desserts. She is the author of seven previous cookbooks, including Gale Gand's Brunch!, Gale Gand's Just a Bite, and Chocolate and Vanilla. She recently opened a new restaurant, Spritz Burger, featuring bubbles (sodas), burgers, and brunch.
She resides in Riverwoods, Illinois with her husband, Jimmy Seidita, son Gio, twin daughters Ella and Ruby. Each year in the spring months, Gale and her son Gio supply local restaurants with wild ramps foraged from wooded areas near their suburban Chicago home.
Cookbooks, etc