Frank Pellegrino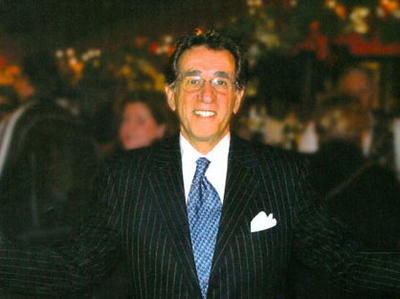 Did you know?
Frank sang in a group called The Holidaes in the early 1960s. He is an actor and restaurateur, but he still sings occasionally at Rao's, his family restaurant in East Harlem, New York.
Frank's Featured Recipe
Rao's Famous Lemon Chicken
Frank Pellegrino is a restaurateur and actor, as well as a cookbook author. He is co-owner of Rao's, a legendary New York restaurant, as well as the Rao's restaurant in Las Vegas.
Frank wrote Rao's Cookbook and Rao's Recipes from the Neighborhood.
Frank's aunt, Anna Pellegrino Rao, welcomed her nephew to the New York restaurant in the 1970s, where he often sang to entertain the guests. Anna had taken over the restaurant's kitchens in 1974, at a time when the restaurant was flourishing and therefore needed more help in the kitchen. Anna, who was married to Vincent Rao, moved her pots and pans, as well as many of her recipes, from the next-door residence to the restaurant. As a result, the restaurant's fare was became even better.
Rao's history is long. Charles Rao, who immigrated from Italy with his parents, opened Rao's in 1896 as a saloon. He died in 1909, at which time his brother Joseph took over. When Joseph died in 1930, Charles's sons Louis and Vincent became the operating owners. Vincent married Anna, who in turn introduced Frank to her husband's family business.
Frank is also an actor who has appeared on a number of television programs and in movies. His roles include FBI Chief Frank Cubitoso on HBO's The Sopranos, numerous appearances on Law & Order, and as Johnny Dio in the film, GoodFellas.
Today, Rao's is owned and operated by Frank and Ron Straci. Ron is Vincent's nephew, who recalls working as a waiter in the restaurant as long ago as 1947 when he was just 12 years old.
Rao's has only 10 tables and reservations are difficult to obtain. Some New Yorkers wait for up to a year for a seat, and without complaint. It's the way the restaurant operates. Clearly, the simple Southern Italian food is the major draw, but so is the very New York atmosphere. Rao's is still located in East Harlem on 114th Street. Until the 1970s, the tiny eatery was a neighborhood restaurant with a loyal and enthusiastic clientele. In 1977, Mimi Sheraton, the food critic for the New York Times gave it a rave review and three stars. One of New York's best kept secrets was no more!
The family runs a mail-order specialty food business and also markets its sauces and similar Italian food products in supermarkets from coast to coast.
Today Frank and Ron own Rao's in New York and Las Vegas. The website is http://www.raos.com
Latest Recipes





(5 Votes)
Cookbooks, etc