Francine Segan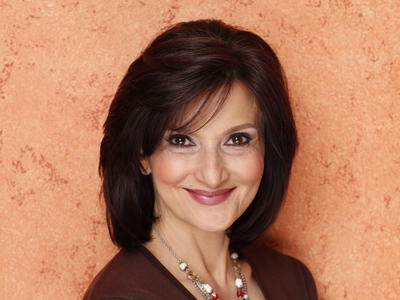 Did you know?
Francine loves old cookbooks, diaries, etiquette books, and odd papers relating to dining customs of the past. "They are my time travel machine — an entry into worlds I can only imagine," she says.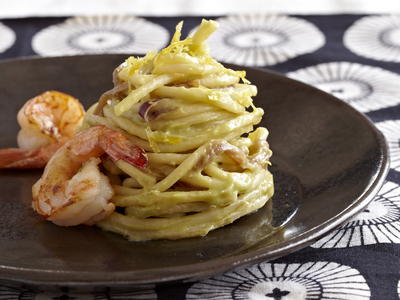 Francine's Featured Recipe
Lemon-Avocado Spaghetti with Shrimp
Francine Segan is a food historian and lecturer, as well as the author of six cookbooks. Her most recent book is Pasta Modern: New & Inspired Recipes from Italy. Others include Dolci: Italy's Sweets, Shakespeare's Kitchen, and Opera Lover's Cookbook, nominated for both James Beard and IACP awards. She co-edited Entertaining from Ancient Rome to the Superbowl, a 2-volume encyclopedia and a Gourmand World Award finalist. She also contributed the chapter on Ruth Reichl for the Icons Of American Cooking.
Francine lectures across the country for organizations such as the Smithsonian Museum, the Virginia Fine Arts Museum, Abigail Adams Museum, Norman Rockwell Museum, and the Museum of Natural History. She recently moderated a panel for the Tribecca Film Festival on food in film with Isabella Rosellini and Stanley Tucci.
She teaches cooking classes at Eataly and the Instituteof Culinary Educationin New York, and also lectures at Sarah Lawrence College. Francine is regularly featured on the History and Discovery channels, as well as the Food Network, where she recently appeared on Robert Irvine's Dinner Impossible.
Francine is a frequent guest on Martha Stewart Living radio, and is often quoted as a food expert for newspapers such as Wall Street Journal, USA Today, New York Times, L.A. Times, and Chicago Tribune. She also is a regular contributor to several other publications, such as Food Arts and Gastronomica. For Tribune Media Syndicates, she has interviewed notable chefs including Jacques Pepin, Lidia Bastianich and Mario Batali.
In December 2009, Italy's National Association of Confectioners named Francine their USA ambassador for Italian sweets.
Francine lives with her husband and their two children in New York City. Her website is francinesegan.com & Twitter @FrancineSegan.
Latest Recipes





(1 Votes)