Florence Fabricant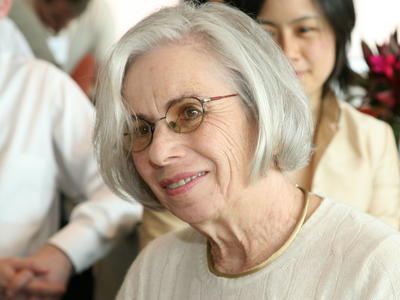 Did you know?
Florence is nothing if not practical. In her book written with Park Avenue hostesses, she includes helpful tips for entertaining. For instance, one hostess reminds readers "You must remember to start with an empty dishwasher!"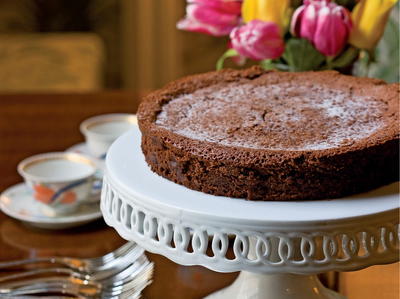 Florence's Featured Recipe
Flourless Dark Chocolate Cake
Florence Fabricant is a nationally renown food writer and columnist who contributes regularly and frequently to the New York Times dining section. She is the author of 12 cookbooks, most recently, a book written with Eric Asmiov, Wine with Food: Pairing Notes and Recipes from the New York Times.
Park Avenue Potluck Celebrations: Entertaining at Home with New York's Savviest Hostesses was written by Florence and members of The Society of Memorial Sloan Kettering Cancer Center , and is a follow-up to her and the organization's first book, Park Avenue Potluck.
Florence's other books include The New York Restaurant Cookbook; The Great Potato Book; Venetian Taste; Florence Fabricant's Pleasures of the Table; New Home Cooking; The New York Times Dessert Cookbook; The New York Times Seafood Cookbook; and Elizabeth's Berry's Great Bean Book (with Elizabeth Berry).
Five of Florence's books were designed by her daughter, Patricia Fabricant.
Florence's wide-ranging reporting covers food and restaurant news for the Times. She is familiar to regular readers of the New York Times, who have come to look forward to her articles on food and the people who make it. She also contributes to the paper's wine column.
She has written about a variety of subjects for the Times, ranging from meatloaf and polenta to chanterelles and caviar. Florence seeks out the cooks, chefs, entrepreneurs, and restaurateurs who make a difference—or who will make a difference—in the New York food scene.
Her recent endeavors with The Society of MSKCC provide a channel to highlight her knowledge while helping raise funds for cancer care, research, and treatment.
The Society of MSKCC was founded in 1946 as a volunteer organization that, in cooperation with a professional staff, develops and funds programs that enhance patient care, support research, and provide public education on cancer-related subjects.
The organization's two books, written with Florence, have raised substantial funds to support their cause.
Florence lives in Manhattan and East Hampton. Her dining blog for the New York Times, Dear FloFab, can be found at http://dinersjournal.blogs.nytimes.com
Cookbooks, etc