Edna Lewis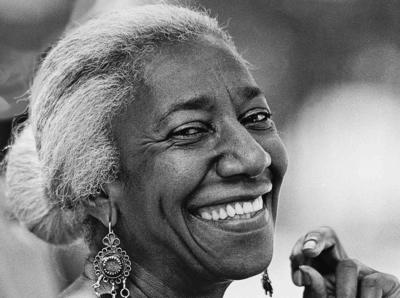 Did you know?
A broken leg, which kept her from her work in a restaurant kitchen, inspired Miss Lewis to write her first cookbook. She wrote down her recipes and that hand-written collection eventually became her first cookbook.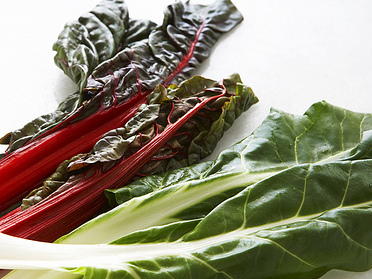 Edna's Featured Recipe
An Assembly of Southern Greens Cooked in Pork Stock
Edna Lewis had a long and rich life that spanned most of the 20th Century, into the 21st Century. She was born in Freetown, Virginia, in 1916, a small farming community founded by her great grandfather and two other freed slaves. She and the other children in Freetown were educated in her grandfather's living room, while Edna learned to cook alongside her mother and aunts. The food they cooked was always fresh from the gardens, fields, woodlands, rivers, and lakes nearby. It was simple fare but made with such care and devotion that these early lessons stood Edna in good stead for the rest of her life. She went on to become one of the best known Southern cooks of her generation and someone who cared deeply about preserving her heritage and that of all Southern cooking.
Edna left Freetown to pursue a broader life and eventually ended up in New York City, where she married Steve Kingston, a retired merchant seaman and Communist, and where she became involved in political causes. She has said her work to help FDR get elected was one of her proudest achievements.
She met John Nicholson, an antiques dealer, and in 1949 the two decided to open Café Nicholson on the East Side of Manhattan. During her five years as the chef, Edna's cooking attracted homesick Southerners such as Tennessee Williams and Truman Capote as well as New York personalities such as Amy Vanderbilt, Richard Avedon, and Diana Vreeland.
Miss Lewis, as she was almost always called, went on to cook elsewhere and in the early 1970s published her first book, The Edna Lewis Cookbook. Edna and her book caught the attention of legendary Knopf editor, Judith Jones, who published The Taste of Country Cooking, the book that put Miss Lewis firmly on the culinary map. Her next book, also with Judith Jones, was In Pursuit of Flavor.
During her career, Miss Lewis lived and worked in both North and South Carolina as well as New York. She always returned to Manhattan, where she lived, and her last chef job was with Brooklyn's Gage and Tollner restaurant, where she worked for five years before retiring in 1992. Around the same time, she and a group of friends started the Society for the Revival and Preservation of Southern Food.
When Miss Lewis met Scott Peacock, who at the time was the chef at Georgia's governor's mansion, it was the start of a beautiful friendship. She spent the final years of her life in Decatur, Georgia, where she and Scott worked and learned together, eventually writing The Gift of Southern Cooking, which was nominated for both James Beard and IACP awards.
Edna Lewis died on February 13, 2006, in Decatur at the age of 89.