Diane Kochilas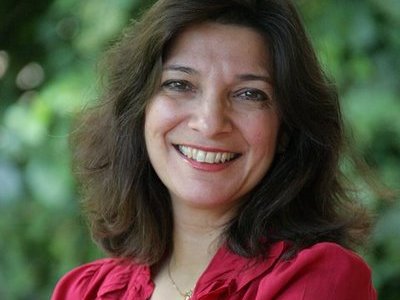 Did you know?
Diane, who divides her time between the U.S. and Greece, is a food columnist and restaurant critic for Ta Nea, the largest-circulation daily newspaper in Greece.
Diane's Featured Recipe
Diane Kochilas is a chef, author, culinary instructor and self-described Greek food guru.
The author of five cookbooks, Diane's focus is clearly the food of her heritage. Her books are The Food and Wine of Greece, The Greek Vegetarian, Meze, Against the Grain, and The Glorious Foods of Greece. This last volume won a book award from the IACP.
Her writing has also been featured in Saveur, Gourmet, and the New York Times.

Diane works as a consulting chef for several Greek restaurants in the U.S. These are Pylos in New York City, Axia in New Jersey, and Avli in Chicago.
She calls Greek food the "mother of all Mediterranean diets" and says that at its best, it is "simple, healthy, delicious, and convivial."
When prepared correctly, Greek food is the most healthful of all Mediterranean cuisines, Diane claims. And, she adds, eighty percent of all Greek olive oil is extra virgin by nature. She also points out that, in her opinion, Greece produces the best honey, yogurt, and seasonal fruits and vegetables "in the world."
She lives in New York, Athens and the Greek island of Ikaria, where her family is from. She currently runs a cooking school on Ikaria called the Glorious Greek Kitchen Cooking School.
Diane's website is dianekochilas.com/.
Cookbooks, etc