Deborah Szekely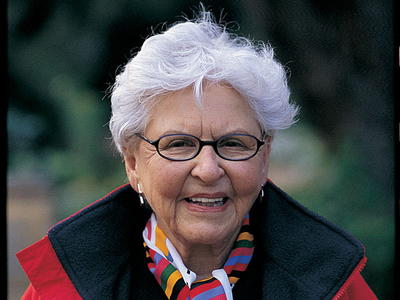 Did you know?
In 1982, Deborah ran for Congress as a Republican and although she lost, she went to Washington anyhow where President Reagan put her in charge of the Inter-American Foundation, which promotes development in Latin America.
Deborah's Featured Recipe
Deborah Szekely and her husband Edmond founded the Rancho La Puerta spa in Tecate, Mexico, in 1940, and then 20 years later, opened the Golden Door in Escondido, California. Both still are standard bearers for the industry.
Deborah has worked on a number of cookbooks, including her most recent with Deborah Schneider, Cooking with the Seasons at Rancho La Puerta: Recipes from the World-Famous Spa. Other books include: Vegetarian Spa Cuisine from Rancho La Puerta and Deborah Szekely and Golden Door Cookbook: The Greening of American Cuisine.
Deborah has been involved in any number of nonprofit organizations, including founding the Eureka Foundation aimed at creating grass-roots social welfare programs in the United States and then, a few years later, founding Eureka Communities, a national leadership training program for CEOs of nonprofits. She also founded and served as co-president for the US-Mexico Commission for Educational and Cultural Exchange. For the past few years, she has been devoted to the New Americans Immigration Museum and Learning Center, a project designed to celebrate and inspire greater understanding of and respect for cultural differences.
Deborah has received numerous awards for community service from around the country. In 2000 she won the Morgan Award for Community Service, LEAD San Diego and was named Humanitarian of the Year.