Deborah Madison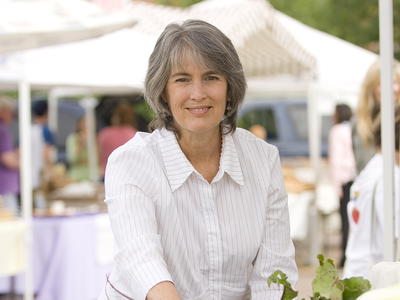 Did you know?
Deborah's latest book is called What We Eat When We Eat Alone — a collection of recipes, humorous stories and memories she wrote with her husband, painter Patrick McFarlin. Not surprisingly, the book is filled with Patrick's drawings and paintings.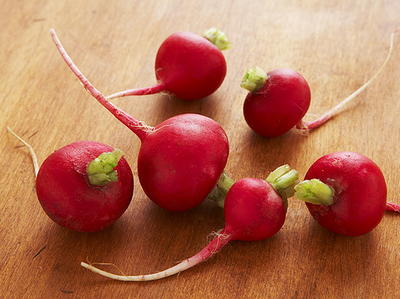 Deborah's Featured Recipe
Spring Vegetable Stew
Deborah Madison has long been involved in the sustainable and local food movement, as a cookbook author, chef, teacher, and community activist. She has written nine cookbooks and is perhaps best known for the Greens Cookbook, a book celebrating the vegetarian fare Deborah served at Greens, the San Francisco restaurant which she helped found and where she was chef in the 1980s. The book has been in print as a hardcover for more than 22 years.
She recently completed Vegetarian Literacy, which is scheduled for publication in the spring of 2013.
Deborah has won numerous awards, including four James Beard book awards. Her books include the Greens Cookbook, The Savory Way, Vegetarian Cooking for Everyone, and Local Flavors: Cooking and Eating from America's Farmer's Markets.
Today, Deborah lives about 25 miles outside Santa Fe, New Mexico. She travels throughout the country teaching cooking and says that when she teaches recipes that include fish or chicken, students are surprised. "I am not a strict vegetarian," she explains. "I eat everything, and eat whatever is served to me. I am mindful when I make the choice of what to cook and eat of whom I am supporting and where the food comes from — especially if it's meat, eggs, or dairy."
She is a consultant for the University of California Berkeley, helping the food service use more locally and sustainably grown foods. She was on the board of Slow Foods and is still very involved with the organization, as she is with Seed Savers Exchange. Outside her New Mexico home, she has eight large raised beds, sheltered from the cold New Mexico weather with hoops and covers where she is growing lettuces, chard, bok choy, arugula, parsley, and mint.
She says she grew up as "something of a farm kid" in Davis, California, an agricultural-university town. She was raised on a dairy farm by a botanist father and was always interested in plants, farming, and gardening.
For years, Deborah worked with the Santa Fe Farmer's Market. Currently, she is working with a local charter school to start a garden as part of the Edible Schoolyard program.
Before she became the chef at Greens, Deborah worked at Chez Panisse, beginning by making desserts alongside Lindsey Shere. She left Chez Panisse for Greens but returned for a while both after she left Greens in 1985 and then again when she returned from living in Italy. While in Italy she was the private chef for the director of the American Academy in Rome
She may be best known for vegetarian cooking, but Deborah is an accomplished pastry and dessert chef. Her next book, scheduled for the fall of 2009, is Deborah Madison's Desserts from Farm, Orchard, and Garden.
Deborah lives in the historic village of Galisteo, New Mexico, with her husband, painter Patrick McFarlin. Deborah's website: http://deborahmadison.com/