David Waltuck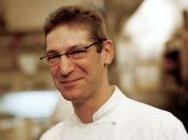 Did you know?
The spectacular flower arrangements at Chanterelle at times soar 10 feet into the air, charming diners with their daring.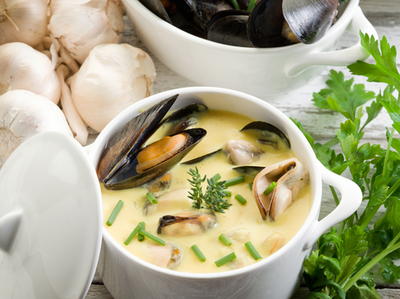 David's Featured Recipe
Mussel Soup with Saffron
David Waltuck is the chef and co-owner, with his wife Karen, of Chanterelle in New York City, which has garnered critical acclaim since it opened in 1979. He is the winner of numerous James Beard Awards including Best New York City Chef and, for the restaurant, Outstanding Restaurant, Service, Wine Service, and Sommelier. The restaurant earned four stars from The New York Times in 1987.
David first began cooking while attending New York's City College in the early 1970s. After graduating Phi Beta Kappa with a degree in biological oceanography, he briefly attended the Culinary Institute of America and then spent two years as lunch chef at La Petite Femme in New York City.
David and Karen opened Chanterelle in a section of Soho that at the time was inhabited mostly by artists. In 1989, the restaurant moved to its current location in Tribeca.
With a menu that changes monthly, David employs local farmers for the freshest seasonal produce. He has long taken advantage of the best ingredients available, seeking out small producers and the finest suppliers of fresh seafood, domestic and imported game and, of course, wild mushrooms.
His extensive travels have also influenced his cooking style; although he remains firmly based in the French classical technique, he incorporates diverse flavors from Europe, the Far East and other parts of the world.
David's first book, Staff Meals From Chanterelle was published in 2000. Chanterelle: The Story and Recipes of a Restaurant Classic was published in the fall of 2008.
David and Karen live in New York's Greenwich Village with their two children.
Latest Recipes





(1 Votes)
Cookbooks, etc