David Burke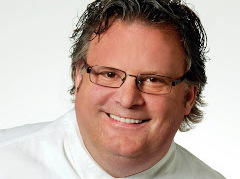 Did you know?
In 2011, Burke received a US patent. It was awarded to him for the unique process by which he uses pink Himalayan salt to dry-age his steaks. Burke lines the walls of his dry-aging room with bricks of the salt, which imparts a subtle flavor to the beef and renders it incredibly tender.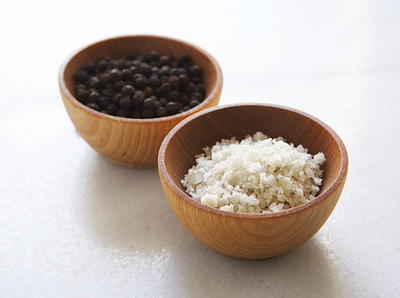 David's Featured Recipe
Southern Buttermilk-Fried Chicken
David Burke is the chef-owner of ten restaurants throughout the US. David trained at the Culinary Institute of America, and soon thereafter the New Jersey native headed to France, where he staged with notable chefs such as Pierre Troisgros and Georges Blanc. He also studied pastry arts under Gaston Lenôtre. Burke's mastery of French culinary technique was confirmed when, at age 26, he won France's coveted Meilleurs Ouvriers de France Diplome d'Honneur for unparalleled skill and creativity with his native cuisine. 

Burke returned to the U.S. as a sous chef for Waldy Malouf at La Cremaillere and then for Charlie Palmer at The River Café, where he ascended to executive chef and earned three stars from The New York Times. In 1992, Burke opened the Park Avenue Café with Smith & Wollensky CEO Alan Stillman, and then, in 1996, he became vice president of culinary development for the Smith & Wollensky Restaurant Group. 

Burke has been honored with Japan's Nippon Award of Excellence, the Robert Mondavi Award of Excellence and the CIA's August Escoffier Award. Nation's Restaurant News named Burke one of the 50 Top R&D Culinarians and Time Out New York honored him as the "Best Culinary Prankster" in 2003. In May 2009, Burke was inducted into the Who's Who of Food & Beverage in America by the James Beard Foundation. In that same month, he also won the distinctive Menu Masters award from Nation's Restaurant News, naming him one of the nation's most celebrated culinary innovators. In February 2012, Burke was honored by the culinary school at Johnson & Wales University with the Distinguished Visiting Chef Award, which is given to the world's most influential and celebrated chefs. In November 2012, he was named Restaurateur of the Year by the New Jersey Restaurant Association. In the same month, he was honored with a Concierge Choice Award, celebrating the best in New York City hospitality, winning the best chef award. 

In 2013, Burke was nominated to "Best Chefs America," a new benchmark in American cooking whereby chefs name the peers who are the most inspiring and impressive in the business. In 2013, the David Burke Group was recognized by Restaurant Hospitality magazine as having one of the "Coolest Multiconcept Companies in the Land." The article highlights restaurant corporations with an enviable business concept that others can't wait to replicate. In addition, it cites the numerous incarnations of Chef Burke's creative vision, from David Burke Townhouse to David Burke Fishtail, from Burke in the Box to David Burke's Primehouse. 

Chef Burke's has appeared on television, including season two of "Top Chef Masters," a guest spot on the "Every Day with Rachael Ray" show and as a mentor to Breckenridge Bourbon distiller Bryan Nolt on Bloomberg's small-business television series, "The Mentor". In 2013, he returned to season five of "Top Chef Masters." 

David's first cookbook was Cooking with David Burke, followed by New American Classics.  He is currently working on his third book, due out in 2015. His website is davidburke.com and Twitter @ChefDavidBurke.