Daniel Leader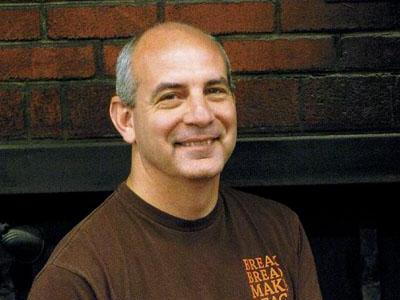 Did you know?
When he first opened his bakery, Dan delivered a few bags of bread from the back of a Mazda hatchback. Today, he has a fleet of trucks making daily deliveries to Boston, New Jersey and New York.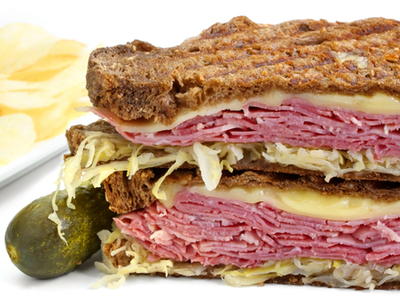 Daniel's Featured Recipe
Corned Beef with Muenster Cheese and Wilted Cabbage
Daniel Leader is the owner and baker of the Bread Alone Bakery in New York's Catskill Mountains. Using recipes and techniques learned from visiting and working with fine bread bakeries in Europe, Bread Alone bakes bread in the same tradition.
Dan is the author of Bread Alone: Bold Fresh Loaves from Your Own Hands and Local Breads: Sourdough and Whole-Grain Recipes from Europe's Best Artisan Bakers.
Dan's food career began when, nine months short of earning an undergraduate degree in philosophy from the University of Wisconsin, he realized his need to work with his hands as well as his mind. He enrolled at the Culinary Institute of America in Hyde Park, New York, graduated at the top of his class, and worked as a chef for some of New York City's hottest restaurants at the time, including La Grenouille and the Water Club.
After eight years of working in the city and cooking food he decided was "too fancy to eat," he became obsessed with the idea of creating something wholesome, timeless, and beautiful. He also yearned to live a simpler life, away from the city, where he would have more direct access to the fresh, locally grown food he had always liked to cook.
And so, Bread Alone was born. Dan opened the bakery in a small building with an old stone oven and spent the next five years learning to deal with its limitations while turning out bread. Eventually, he hired André LeFort to build brick ovens for the bakery. He had to import both LeFort and many of the materials from France—and only after battling with the planning board of the town of Boiceville. Finally, the ovens were built and today Dan and his staff produce fifteen tons of fresh bread per week.
Dan lives in Boiceville, New York, with his wife Sharon and their four children, Liv, Nels, Octavia, and Noah. His website is http://www.breadalone.com
Cookbooks, etc