Dan Smith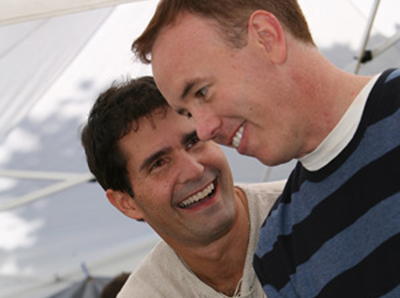 Did you know?
Dan and his partner Steve McDonagh got their start as New York actors. Both can sing and dance, as well as cook.
Dan's Featured Recipe
Dan Smith and Steve McDonagh, aka The Hearty Boys, have thrown parties for a wide range of clients, from Hillary Clinton to Northwestern University.
The duo started out in New York as actors and paid bills by working for a series of catering companies. They learned how to set up outdoor bars and buffets at the U.S. Open; trained how to set a formal table at the French Embassy; and worked at luncheons for dignitaries and royalty at the United Nations. Along the way, both Dan and Steve soaked up much useful knowledge.

Eventually, Dan and Steve moved to Chicago, where they established a catering company they called The Hearty Boys. They quickly became known for their hip, sophisticated, urban parties and were in great demand. Lifestyle reporters from newspapers and televison stations often called on them for tips for upcoming stories on entertainment.

The Hearty Boys opened a gourmet shop in the Boystown neighborhood on Chicago's north side and continued to grow happily and steadily…and then came the summer of 2005.
That was the year they sent a tape to the Food Network to beat out 10,000 entrants in a contest to become The Next Food Network Stars. They launched their own television show called Party Line with The Hearty Boys.
The same year they opened their first restaurant, HB: A Hearty Boys Spot. And then they topped off this momentous year with the adoption of their son, Nate.

In 2007 Dan and Steve published Talk with Your Mouth Full.
They have appeared on CBS' The Early Show, and in Life, The New Yorker, the New York Times, and other publications.
Dan and Steve live in Chicago. Their website is www.heartyboys.com.