Daisy Martinez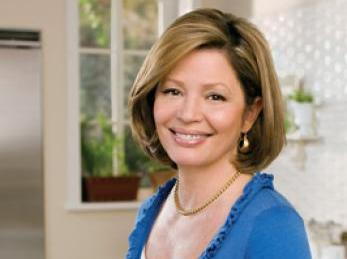 Did you know?
Daisy's latest book, Daisy: Morning, Noon and Night, Bringing Your Family Together with Everyday Latin Dishes hit the stores on March 2. The book features Daisy's personal take on Latin classics and New Latin cooking and has menus for every occasion.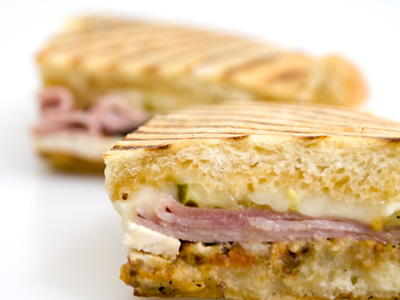 Daisy's Featured Recipe
Cuban Sandwich
Daisy Maria Martinez was born to Puerto Rican parents in Brooklyn, New York, where she lived at her grandmother's house until she was almost five years old. Her extended family included relatives from Central America, Spain, and other parts of the Spanish-speaking world. Growing up in the household of her abuela inspired Daisy to appreciate the joys to be unraveled in the kitchen. Between her grandmother, Valentina, and her mother, Conchita, Daisy learned first hand how the kitchen can be the happiest room in the household.
While attending Long Island University, Daisy met and married her husband, Jerry, and immersed herself in raising and nurturing her family. During these years, entertaining played a large part in their lives.
In 1998, Daisy matriculated at the French Culinary Institute.  After graduating she worked with A La Carte Communications as a prep-kitchen chef on the set of PBS's Lidia's Italian-American Kitchen. During the same period she worked as a private chef in New York City and started her own catering company, The Passionate Palate.
Eventually Daisy was given her own PBS series, Daisy Cooks! She is often featured as a guest on other TV shows and travels all over the U.S. and abroad for cooking demonstrations and book signings. She has been a regular contributor to Every Day with Rachel Ray, Siempre Mujer, and Reader's Digest's Selecciones magazines.
In 2005, Daisy published Daisy Cooks! Latin Flavors That Will Rock Your World. The book was an IACP nominee and winner of the Best Latino Cuisine Cookbook in the World by the Gourmand World Cookbook Awards.
While celebrating life and family through food, Daisy is intensely proud of her Puerto Rican heritage and is active in the Latino community, visiting schools and participating in philanthropic events.
Before she studied cooking, she was a model and an actress. She was the "Martinez Valero Girl" for a Spanish shoe company and acted in American and Spanish-language commercials.
Daisy's embrace of her cultural roots and knowledge of the spectrum of Latin cuisine are vividly communicated through her television show and cookbook. Daisy's website: http://www.chefdaisymartinez.com/