Craig Claiborne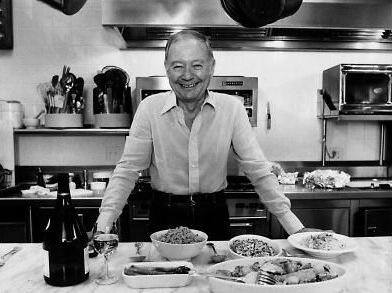 Did you know?
Guests for Craig's 60th birthday party in East Hampton included Jacques Pepin, who grilled, Alice Waters, and Maida Heatter, who baked the celebratory cakes.
Craig's Featured Recipe
Craig Claiborne was the food editor of the New York Times from 1957 until 1986. While there, not only did he become very well known, he broke the mold of newspaper food editors, who before then were almost always women. As well as reviewing restaurants and writing columns with Pierre Franey, he wrote or edited more than 20 cookbooks, including the New York Times Cook Book.
Craig was born in Sunflower, Mississippi, in 1920 and although he studied at École Hôtelière in Lausanne, Switzerland, he always maintained that it was observing his mother and the family cook in their kitchen at home that inspired his passion for food. Facing hard times, Craig's mother opened a boarding house in Mississippi and relied on what her son called her natural ability to cook to keep her guests happy and well fed.
Craig was the author of the New York Times Cook Book published in 1961 and the New York Times Cookbook published in 1990. He wrote The Chinese Cookbook, Craig Claiborne's New New York Times Cookbooks, Best of Craig Claiborne: 1,000 Recipes from His New York Times Food Columns and Four of his Classic Cookbooks (written with longtime collaborator Pierre Franey), Craig Claiborne's A Feast Made for Laughter (his autobiography), Craig Claiborne's Diet Book, and Craig Claiborne's Southern Cooking.
While at the Times, Craig is credited with introducing a generation of Americans to Asian and Latin cuisines, particularly Mexican, when most restaurants in the city were French and Italian. As the restaurant reviewer, he introduced the four-star rating system, which is still used by the paper.
Craig felt strongly that his readers should know what they were getting when they ate at a restaurant, and he held restaurants accountable for their food and service. His reviews broke ground in many ways, not the least of which being that they were taken very seriously. At the time he became the editor at the Times, at most newspapers, restaurant reviews were connected to the advertising department.
One of the most famous stories about Craig is the meal he and Pierre Franey shared in 1975. They dined at a Paris restaurant called Chez Denis for a meal they had won at a charity auction and that was paid for by American Express. After five hours and 31 courses, the bill came to $4,000. Craig wrote about the meal for the Times, saying that the lobster was "chewy" and the beurre blanc sauce with the oysters was "tepid." The column caused a stir and the paper was deluged with letters, many of them outraged at the extravagance of the meal.
Craig elevated the stature of the food pages in the Times. He wrote about a wide range of cuisines, many of which he introduced to the paper's readers. He also celebrated relatively unknown writers and chefs, including Madhur Jaffrey, Marcella Hazan, Paul Prudhomme, and Zarela Martinez. When he died, the New York Times obituary said that "Mr. Claiborne, more than any writer of his day, introduced gastronomically sheltered Americans to the greatest chefs of France, Italy and Asia."
Craig lived in Manhattan and East Hampton, Long Island. He died in 2000.