Coleman Andrews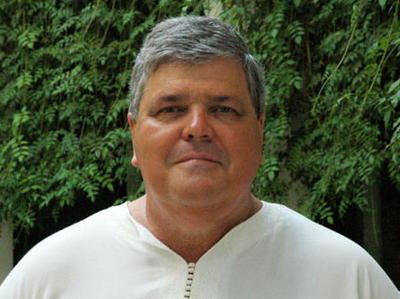 Did you know?
Colman wrote the liner notes for a special 1976 edition of a reissued album by Miles Davis.
Coleman's Featured Recipe
Colman Andrews is a cookbook author, magazine editor, and freelance writer and also known as one of the leading experts on the food of Spain.
He is the author of a number of books including Catalan Cuisine: Europe's Last Great Culinary Secret; Everything on the Table: Plain Talk about Food and Wine; Flavors of the Riviera: Discovering Real Mediterranean Cooking; Saveur Cooks Authentic American; Saveur Cooks Authentic French; and Saveur Cooks Authentic Italian. He contributed to Malaparte: A House Like Me; and Setting the American Table: Essays for the New Culture of Food and Wine.
Colman was a founder and editor-in-chief of Saveur magazine until 2006, when he became the restaurant critic for Gourmet. Colman is perhaps best know for his long tenure with Saveur, which began in 1994 when the magazine was started. Until Saveur, Colman had always lived in Southern California, where he grew up in Los Angeles and Ojai. He moved to New York City in 1995 to work at Saveur.
Colman's journey from his early days in Los Angeles to the magazine was one influenced mainly by food and music. He wrote for the music industry as well as about food. He was editor-in-chief of Coast magazine in LA in the early '70s.
During this time, Colman also worked for Atlantic Records. He wrote press releases for debut albums by Bette Midler and Jackson Browne. He also reviewed records for Creem and made radio commercials and wrote liner notes for a number of albums.
His first restaurant reviewing job after graduating from UCLA was with The Staff, an offshoot of the LA Free Press. The persona he created for the column, named Mr. Food, caught the attention of Lois Dwan, a reviewer for the Los Angeles Times, who asked Colman to substitute for her when she was on vacation. Although he never joined the staff of the Times, he worked for the paper for a number of years, writing about food, restaurants, and travel.
In 1978, Colman began a wine column for Los Angeles magazine and soon afterwards was hired as an editor for New West magazine, started by Clay Felker. A few years later, he left New West to work for Apartment Life, which soon became Metropolitan Home magazine, where he wrote primarily about wine and food.
Toward the end of his time at Metropolitan Home, Colman started work on Catalan Cuisine, his first book. When the book was published—and it's still in print to this day—Colman supported himself as a freelancer and wrote articles for the Los Angeles Times, Food & Wine magazine, Travel & Leisure, and Bon Appétit. His second book, Flavors of the Riviera, was published a few years after the Catalan book. He then went to Saveur. Colman is currently the Editorial Director at The Daily Meal.
Colman has won any number of awards for journalism and his books, from the James Beard Foundation and the International Association of Culinary Professionals. In 1985, he was one of the first 50 people named to Who's Who of Cooking in America.
Colman lives with his wife in the New York metropolitan area, and has two daughters.
Cookbooks, etc