Cesare Casella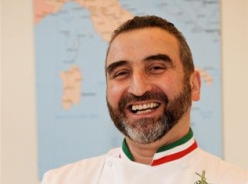 Did you know?
Cesare is so enamored of fresh herbs, he usually wears a bunch of one herb or another — and more often than not it's rosemary — in the pocket of his chef's jacket. He also grows herbs in pots and planters at his New York restaurant.
Cesare's Featured Recipe
Cesare Casella is a chef and cookbook author who is chef-owner of Salumeria Rosi Parmacotto and Il Ristorante Rosi in New York City.
Cesare is the author of The Fundamentals of Classic Italian Cuisine, Diary of a Tuscan Chef, Italian Cooking for Dummies, and True Tuscan. He has been featured in publications such asGourmet, Bon Appetit, Food & Wine, Martha Stewart Living, Saveur and most recentlyDepartures and La Cucina Italiana magazines. Cesare has been the subject of a series of theNew York Times The Chef columns.
Cesare in grew up in Italy where his family still owns Il Vipore, a small trattoria the sits on a hillside overlooking Lucca. When he was 14, he enrolled in Culinary Institute Ferdinando Martini in Montecatini and when he graduated, decided to elevate the trattoria from a local favorite to a culinary destination. Cesare developed his trademark herbal cuisine — thanks in part to a garden with more than 40 aromatic herbs — and updated traditional Italian recipes. By 1991, Cesare had earned Il Vipore a Michelin star and a reputation that attracted clients from Henry Kissinger to Tom Cruise.
Cesare moved to New York where, in 1993, he was named executive chef of Coco Pazzo. Soon thereafter, he launched, Il Toscanaccio, Beppe, and Maremma restaurants in New York. He also launched Republic of Beans, an import company of Italian heirloom beans, grains and spices.
In 2006, New York Magazine named Maremma one of the Top 5 "Best New Restaurants" in New York City and called Cesare's recipe for macaroni and cheese the "Best Mac-n-Cheese." Maremma was honored with three stars from Forbes Magazine, which named it one of the best restaurants in the country. Food critic Adam Platt deemed Maremma to be one of the "Best Places to Eat In 2007."
Chef Daniel Boulud asked Cesare to be guest chef on After Hours, with Daniel Boulud. He also appeared as a featured guest on Dan Rather Reports. He has also appeared on The Secret Life Of with host Jim Connors, Tyler's Ultimate,Molto Mario, Martha Stewart Living, Brindiamo, No Reservations with Anthony Boudain and as a top judge on Bravo's Top Chef.
Cesare is the 2007 recipient of Food Art Magazine's, Silver Spoon Award. He is a frequent guest at both the James Beard House and De Gustibus in New York City. He is an active member and supporter of City Harvest, Autism Speaks, Slow Food USA, Chef's Collaborative, Seafood Alliance and the Gruppo Ristoratori Italiani(GRI), an organization that seeks to promote Italian cuisine.
He serves at the International Culinary Center as dean of the Italian Culinary Academy, in both New York City and Parma, Italy, and continues to oversee the programs' development and the comprehensive training of all chefs and instructors involved. Cesare also serves as Chief of the Department of Nourishment Arts at the Center for Discovery, where he works to raise awareness about sustainability and nutrition.
Cesare lives in the New York metropolitan area.