Carla Snyder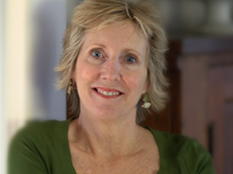 Did you know?
Carla has been known to extol the virtues of fresh figs, especially when quickly roasted to concentrate "their flavor [and] caramelize their sugars." This leaves them sweeter and more complex than ever, she says. She likes to eat them with great Gorgonzola cheese.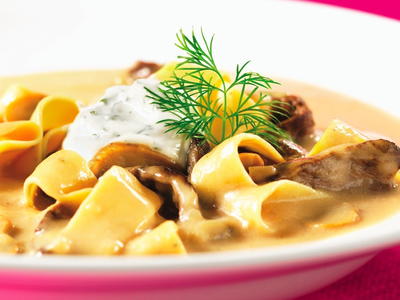 Carla's Featured Recipe
Beef Stroganoff and Noodle Soup
Carla Snyder is a caterer, cooking teacher, cookbook author, artisan baker, food writer, corporate culinary event planner, and co-owner of Kitchen Counter Points cooking school.
With culinary partner, Meredith Deeds, she is the author of six books. These include the recently published Take-Our Menu Book as well as The Big Book of Appetizers, which was nominated for a James Beard Award, The Mixer Bible, and 300 Sensational Soups. Their soup book was named by Good Morning America as one of the 10 best cookbooks for 2008.
Carla and Meredith currently are working on The Little Black Dress Cookbook.
As a student, Carla spent a semester in Europe, where she reveled in all she tasted and realized that many people in the world lived to eat, rather than the other way around. This resonated with her and once she earned her degree in journalism, she began what has become a 30-year journey through the culinary world. She truly has a passion for all cuisines, and is equally committed to helping her students and readers get meals on the table with ease, style, and fun.
Carla has written for the Cleveland Plain Dealer, Feast! Magazine, Family Fun Magazine, Better Homes and Gardens, Akron Magazine, Cleveland Home Décor Magazine, and Bon Appétit. She has appeared on Fox Morning News Indianapolis and Cincinnati, Lake Effect Radio's Dinner Plans, Martha Stewart Living Radio, and Good Morning Cleveland.
Carla lives in Ohio. Her website is http://meredithandcarla.com/