Cara Tannenbaum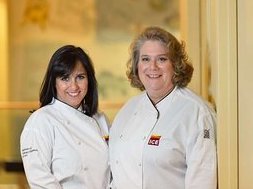 Did you know?
Cara's favorite nut changes every day. Cashews, almonds and walnuts are the top trio of the moment. The buttery richness of cashews, the crumbly crunchiness of almonds, and the oh-so-but-not-quite-bitterness of walnuts keep her munching all day long.
Cara's Featured Recipe
Cara and Andrea irst met 18 years ago as chef-instructors at the Institute of Culinary Education. They were working mothers, chefs, educators with career ambitions and life passions. They worked so well together redeveloping the recipes for ICE's professional programs they knew they could have fun thinking and collaborating on a cookbook that showcased the delicious possibilities of the nut in all its breakfast to dessert formations. In the summer of 2014, they released their first cookbook, In a Nutshell: Cooking and Baking with Nuts and Seeds.

Cara has a past life as an archaeologist and a current life as a mother of two, pastry chef instructor and the owner of a successful catering business in New York City's Westchester County. Her busy and impressive client list includes The New York Philharmonic, Jazz at Lincoln Center and Carnegie Hall.