Bobby Flay
Did you know?
Bobby was a guest star on HBO's series, Entourage. On the show, he played the part of a famous Los Angeles chef.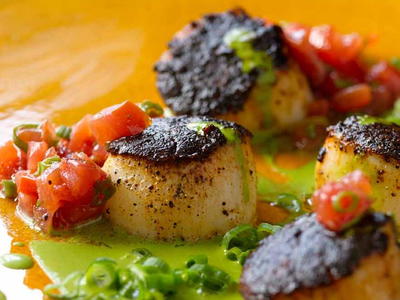 Bobby's Featured Recipe
Blackened Sea Scallops, Green Onions, Roasted Tomatoes
Bobby Flay is a chef, restaurateur, and television personality. He has written more than ten cookbooks, including Bobby Flay's Throwdown and Bobby Flay's Bar Americain.
He started working as a cook when he was 17 years old and got a job at Joe Allen's, a restaurant in New York's theater district. From there, he went to the The French Culinary Institute, where received the Outstanding Graduate award.
After he graduated, Bobby worked with restaurateur Jonathan Waxman at Buds and Jams, where he discovered Southwestern ingredients. Despite being in Manhattan, he soon developed his own style for cooking Southwestern food.
In 1991, Bobby opened Mesa Grill, his first restaurant, which was named the Best Restaurant of 1992 by New York MagazIne.
Bobby teamed with businessman Laurence Kretchmer to open Bolo in 1993, and earned three stars from The New York Times. He was also voted the James Beard Foundation's Rising Star Chef of the Year 1993.
In following years, Bobby opened more restaurants around the country: Mesa Grill at Caesars Palace in Las Vegas, Bobby Flay Steak at the Borgata Hotel in Atlantic City, and Bar Americain in both New York and Connecticut. In July 2008, he opened the first of a number of casual restaurants called Bobby's Burger Palace.
In addition to his restaurants, he also hosts cooking shows on the Food Network, the Cooking Channel, and NBC. These include Throwdown with Bobby Flay and Grill It.
He lives in the New York metropolitan region and his website is www.bobbyflay.com/
Latest Recipes





(2 Votes)
Cookbooks, etc