Bob Blumer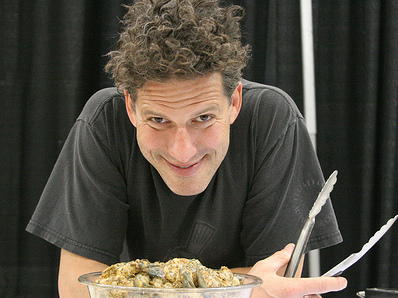 Did you know?
Bob has become a wine expert and for more than a decade has been a wine judge for the Los Angeles Country Fair and San Francisco wine competitions. On the other hand, he has cooked a salmon in a dishwasher!
Bob's Featured Recipe
Bob Blumer is a television host and chef who has written five cookbooks. Known for his iconoclastic approach to cooking, he has made a career enthusiastically encouraging his followers to cook — and not worry too much about their perceived skill.
Known as a culinary adventurer, Bob is the author of The Surreal Gourmet: Real Food for Pretend Chefs; The Surreal Gourmet Entertains: High-Fun, Low-Stress Dinner Parties for 6 – 12; Off The Eaten Path: Inspired Recipes for Adventurous Cooks; Glutton For Pleasure: Signature Recipes, Epic Stories, and Surreal Etiquette; and Pizza on the Grill.
His first book was the inspiration for his first Food Network program, The Surreal Gourmet, which ran for five seasons and is still viewed in more than 25 countries. Currently, he is the host and the co-creator of Glutton for Punishment, another Food Network show which airs in the United States as well as more than 30 other countries.
Bob is known for transforming everyday ingredients into awe-inspiring dishes that might include whimsical presentations and unorthodox cooking techniques. It is perhaps his rebellious spirit as well as his natural zeal that has endeared him to a wide range of viewers and readers.
For Glutton for Punishment, Bob has gone on a number of adventures, including running in the Medoc marathon in Bordeaux,France, and traveling around the United States in the Toastermobile. The Airstream trailor was fitted with a state-of-the-art kitchen and topped with two eight-foot slices of toast.
He has been written up in the Wall Street Journal, the Los Angeles Times, San Diego Times Advocate, and the People magazine, to name a few publications. He has appeard on CNN and any number of morning shows.
Although he spends a good amount of time traveling, Bob likes to ride his bike in the canyons near his Hollywood Hills home when he can. His website is bobblumer.com/
Cookbooks, etc