Bill Yosses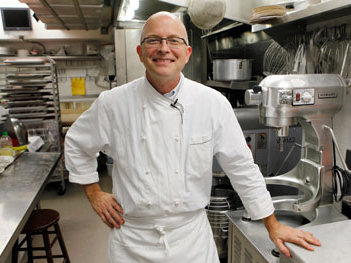 Did you know?
President Obama dubbed chef Bill Yosses the "Crustmaster."
The secret to his pie crust is baking the bottom crust before adding the fruit and top crust. He uses a blend of butter and lard for the fat in the dough.
Bill's Featured Recipe
William "Bill" Yosses is a pastry chef and cookbook author.
He has served apprenticeships in France, and worked under chefs Daniel Boulud and then Sous Chef Thomas Keller. He was executive pastry chef at Joseph Citarella in New York City, and at the 4-star Bouley Restaurant and Bakery.
Bill has also assisted in the opening of Paul Newman's Dressing Room in Westport, Connecticut.
He is the author of Desserts for Dummies, and the coauthor of The Perfect Finish: Special Desserts for Every Occasion.
Bill served as White House Holiday Pastry Chef for the 2006 holiday season. He currently lives in Washington, DC, and is the executive pastry chef at the White House.
Cookbooks, etc