Beth Hensperger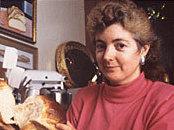 Did you know?
Beth is the author of a series of books with the title Not Your Mother's _____. She intends to reach the generations of home cooks who may not have learned to cook from their mothers or who may not have liked what their mothers cooked.
Beth's Featured Recipe
Slow-Baked Macaroni and Cheese
Beth Hensperger is a cookbook author, newspaper columnist and caterer living in the San Francisco Bay area. She has written 18 cookbooks, including The Bread Bible, which won a James Beard Award.
Beth is a columnist for the San Jose Mercury News, writing about subjects as diverse as Scottish shortbread, fresh grape coffee cake, and almond shortbread baked in the microwave.
Her books include Not Your Mother's Weeknight Cooking, Not Your Mother's Slow Cooker Cookbook, Not Your Mother's Slow Cooker Family Favorites, The Best Quick Breads, The Ultimate Rice Cooker Cookbook, and The Gourmet Potluck.
Beth owns a catering business — something to keep her busy when she is not writing!
Website: http://bethhensperger.com/
Latest Recipes





(2 Votes)