Art Smith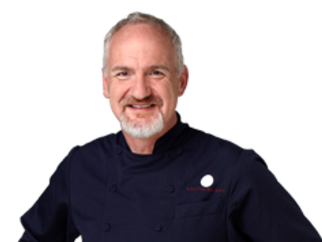 Did you know?
Years ago, he dug up the concrete behind his Chicago condo, planted grass and put in a large outdoor kitchen -- even a tandoor oven. Today, it's a gathering spot for his neighbors.
Art's Featured Recipe
Art Smith is a Chicago-based chef, cookbook author and television personality whose mission is to encourage families and friends to gather around the table to share a meal. He owns the Chicago restaurant, Table Fifty-Two, which celebrates Southern food, the food of his youth.
A native of Jasper, Florida, Art began his professional career as the chef for Florida Governor Bob Graham. Following his time in the governor's mansion, Art became a personal chef for families, celebrities and politicians and was able to travel extensively in Europe and Africa. Eventually he settled in Chicago and from 1997 until 2007, he was Oprah Winfrey and Stedman Graham's personal chef, and now is the specialty chef for Oprah's most important events.
Art is a two-time James Beard Award recipient, having won the Best Cookbook award in 2002 for Back to the Table, and the Humanitarian award in 2007. For his second cookbook, Kitchen Life: Real Food for Real Families, he received the 2001 Gourmand World Cookbook Award for the Best Family and Children's Cookbook. His book, Back to the Family, won the same award in 2008.
Art was selected twice as keynote speaker for Florida Governor Jeb Bush's "Celebration of Reading," sponsored by the Barbara Bush Foundation for Family Literacy. He recently received an honorary MBA from Florida State University School of Business.
Art it is a contributing chef for best-selling author Dr. Dean Ornish's new family health book. He is a contributing editor to O, the Oprah Magazine and the food section of Oprah.com and has appeared several times on Oprah. He is featured regularly on television programs such as Today and Good Day Live. He is a regular tasting judge for Iron Chef America.
As a way to support his community, in 2003 Art established Common Threads, a nonprofit organization that embodies his mission to foster a familial environment where children can learn to value each other and discover universal understanding and mutual acceptance. The program serves more than 1,000 children at seven locations around Chicago and recently expanded into the Oprah Winfrey Boys & Girls Club of Kosciusko, Mississippi, and into Los Angeles, too. Chicago Magazine named Art "Chicagoan of the Year" for his work with Common Threads. He also serves on the board of directors of "Kids Café," a nutrition program for children in Minneapolis. Common Threads recently was featured on NBC Nightly News in its "Making a Difference" segment
Art lives in Chicago's Hyde Park neighborhood with his life partner, renowned artist Jesus Salgueiro, tending to their garden and their three dogs, five cats, 15 fish, and one bird, Buddy. His website is: www.chefartsmith.net