Anthony Bourdain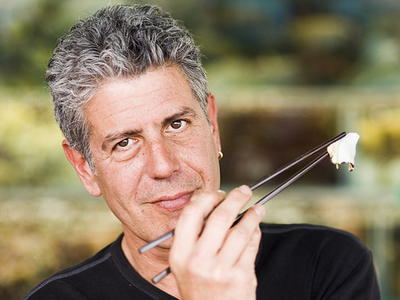 Did you know?
For his TV show A Cook's Tour, Tony visited fishing villages in Vietnam, bars in Cambodia, and Tuareg camps in Morocco. He ate smoked fish in the frozen Russian countryside, deep-fried Mars Bars in Glasgow, and the still-beating heart of a cobra in Saigon.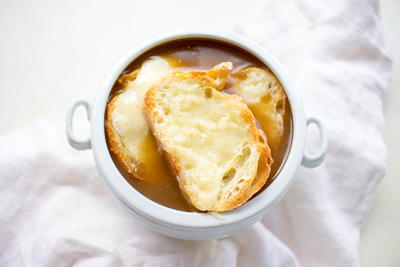 Anthony's Featured Recipe
Onion Soup Les Halles
Anthony Bourdain was the executive chef at Brasserie Les Halles in New York, and the host of the series No Reservations on the Travel Channel.
Raised in New Jersey, Tony's love of good food was born on a family trip to France where young Tony tasted his first oyster. He spent two years at Vassar College before attending the Culinary Institute of America in Hyde Park and embarking on a culinary career. He was a 28-year veteran of professional kitchens, having worked as a dishwasher, line cook and chef in places he describes as "good, bad and horrible."
In 2000, Anthony published a memoir of his experiences in the culinary underbelly, Kitchen Confidential, which became an international bestseller. He is also the author of A Cook's Tour, Les Halles Cookbook, The Nasty Bits, and the novels Bone in the Throat and Gone Bamboo. He has traveled the world with his television shows No Reservations and Food Network's A Cook's Tour.