Andrea Tutunjian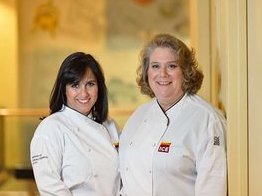 Did you know?

Andrea's favorite nut is pistachio because the smile of the popped open shell always brings a smile to her and those around her.
Andrea's Featured Recipe
Andrea and Cara first met 18 years ago as chef-instructors at the Institute of Culinary Education. They were working mothers, chefs, educators with career ambitions and life passions. They worked so well together redeveloping the recipes for ICE's professional programs they knew they could have fun thinking and collaborating on a cookbook that showcased the delicious possibilities of the nut in all its breakfast to dessert formations. In the summer of 2014, they released their first cookbook, In a Nutshell: Cooking and Baking with Nuts and Seeds. 

Andrea's path to a life as a chef educator includes stops in the worlds of finance and the back of the house in the esteemed kitchens of Le Cirque and The Rainbow Room. She is a mother of three and ICE's Director of Education and Dean of Pastry and Baking Arts. She has been featured in The New York Daily News and The New York Post.