Alice Waters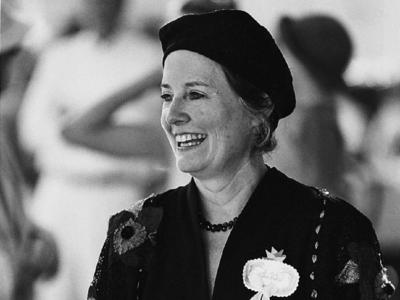 Did you know?
Chez Panisse is named after a character in Marcel Pagnol's 1930's trilogy of movies, Marius, Fanny,and Cesar, and along with the cafe, is a homage to the sentiment, comedy and informality of these classic films.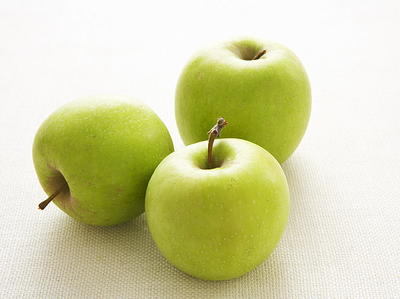 Alice's Featured Recipe
Green Apple Sherbet
Alice Waters is one of America's most influential culinary figures, a visionary with a passion for food who launched a gastronomic revolution in 1971 when she insisted on serving local, organic fare at her Berkeley, California, restaurant, Chez Panisse. Chez Panisse has always served a single fixed-price menu that changes daily to reflect Alice's philosophy of serving only the highest quality products and only when they are in season. Over the course of three decades, Chez Panisse has developed a network of mostly local farmers and ranchers whose dedication to sustainable agriculture assures Chez Panisse a steady supply of pure and fresh ingredients.
The upstairs café at Chez Panisse opened in 1980 with an open kitchen, a wood-burning pizza oven, and an à la carte menu. Café Fanny, a stand-up café that serves breakfast and lunch, was opened a few miles away in 1984.
Alice has been a vocal and powerful advocate for the organic, sustainable, and local food movement and is well known around the country — indeed the world — for her beliefs and undying campaign for her beliefs. To spread the word, she brought her dream to public schools through the Chez Panisse Foundation, which operates the Edible Schoolyard program that demonstrates the transformative power of growing, cooking, and sharing food — a model for other programs across the country.
Alice is a recipient of the Natural Resources Defense Council Force of Nature Award and is an international governor of Slow Food International. Alice has garnered numerous other awards: Chez Panisse was named Best Restaurant in America by Gourmet magazine in 2001; she was given Bon Appetit magazine's Lifetime Achievement Award in 2000 and the James Beard Humanitarian Award in 1997; the Beard Foundation named her Best Chef in America by 1992 and Cuisine et Vins de France listed her as one of the ten best chefs in the world in 1986.
Alice is author and co-author of eight books, including Chez Panisse Vegetables; Chez Panisse Cafe Cookbook; Fanny at Chez Panisse, a storybook and cookbook for children; and most recently, the encyclopedic Chez Panisse Fruit.
Because Alice is a strong advocate for farmer's markets and for sound and sustainable agriculture, in 1996, in celebration of the restaurant's twenty-fifth anniversary, she created the Chez Panisse Foundation to help underwrite cultural and educational programs. She is a visiting dean at the French Culinary Institute, an honorary trustee of the American Center for Food, Wine and the Arts in Napa, and board member of the San Francisco Ferry Plaza Farmers Market.
Alice lives in the Bay Area in California and has a daughter, Fanny, who was born in 1983.
Latest Recipes





(1 Votes)