Alfred Portale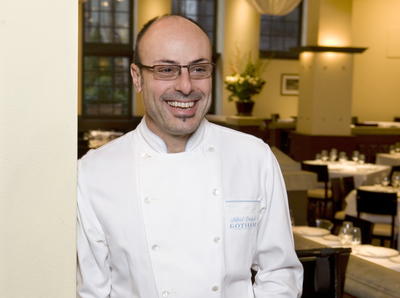 Did you know?
Alfred says his staff is his most important asset. "I worked in French kitchens where everyone screamed at each other and there was lots of anxiety," he said in a recent interview. "I wanted to create a calm, nurturing environment."
Alfred's Featured Recipe
Alfred Portale is the chef-owner of New York's Gotham Bar and Grill, where he has been cooking since 1985. He joined the restaurant as chef a year after it opened to disappointing reviews and within six months of taking the helm, the restaurant was awarded three stars by the New York Times.
Alfred is known for nurturing new talent, and any number of today's renown chefs have worked in his kitchen, among them Bill Telepan, Wylie Dufresne, Chris, Lee, Tom Valenti, Adam Longsworth, Rick Tramonto, and Tom Colicchio. The chef says he is proud of his reputation as a mentor. "It's very important but I'm not alone in this category. There are a handful of great chefs who've done it. Back then it was a unique concept but Jean Georges, Daniel Boulud, Charlie Palmer, Thomas Keller; they've all had important people come out of their kitchen. You have to nourish and nurture your people."
Gotham Bar and Grill is celebrating its 25th anniversary this year with a series of fixed price menus. Recently, Alfred opened Gotham Steak in the Fountainbleu Hotel Miami Beach.
Alfred is the author of several books including: Alfred Portale Simple Pleasures: Home Cooking from the Gotham Bar and Grill's Acclaimed Chef; Alfred Portale's Twelve-Seasons Cookbook; and Alfred Portale's Gotham Bar and Grill Cookbook.
Alfred trained with French chefs Michel Guérard and Jacques Maximin before putting his talents to work in New York. And since, he has never left East 12th Street.
Alfred lives in the New York metropolitan area.