Adam Perry Lang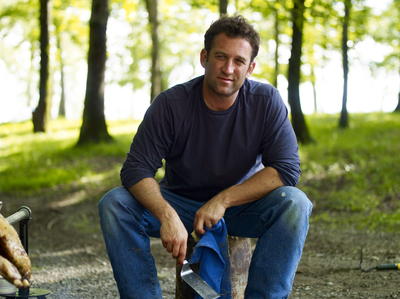 Did you know?
Adam won grand champion honors at the World Pork Expo, and first place for pork shoulder at the Kansas City American Royal, a.k.a. "The World Series of BBQ."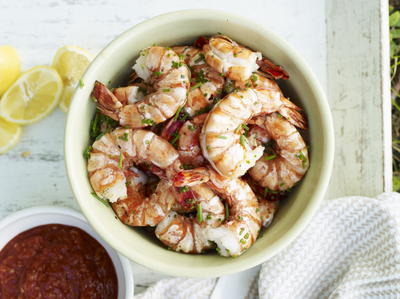 Adam's Featured Recipe
Grilled Shrimp Cocktail
Adam Perry Lang is a chef, restaurateur and cookbook author. He is native New Yorker who has cooked in France and England and today has restaurants in New York, Las Vegas, and London.
He has written three books, Serious Barbecue, BBQ25, and Charred & Scruffed.
Early on, Adam focused on developing his palate and fine-tuning his skill. He worked in some of Manhattan's top-rated French restaurants including Le Cirque, Daniel and Chanterelle. He has been described as Daniel Boulud's protégé. He then moved to France to cook in the three star-Michelin rated restaurants, Guy Savoy and Marc Meneau.
When he returned to New York, Adam decided to concentrate on American barbecue and steak. He opened Daisy May's BBQ U.S.A in Manhattan. Food critic and author Jeffrey Steingarten describes Adam's dry-aged steaks at the restaurant as the "best in the city, if not the country."
He went on to open Carnevino in Las Vegas and Barbecoa in London, which he co-founded with Jamie Oliver.
Adam graduated from the University of Wisconsin in Madison and then studied at The Culinary Institute of America, where he received the Gourmet Society's Harold Solomon Award of Distinction. He also was awarded a scholarship grant from the Dannon Corporation for recipe development.
Adam has appeared on the Oprah Winfrey Show, Today, Good Morning America, Jimmy Kimmel Live, Fox & Friends, The Best Thing I Ever Ate, Iron Chef America, BBQ with Bobby Flay, and Power Lunch. He also has been on The Travel Channel and Style Network, and featured in many publications, including Food & Wine and Saveur. In 2006, he ranked fifteenth in Saveur's annual Saveur 100: The Best Things to Happen to Food This Year.
British chef, Heston Blumenthal, of London's Fat Duck restaurant, chose Adam for his International BBC television show, Perfection, On the program, Heston lauds Adam's dry-aged steaks as "the best in the world."
Adam lives in New York City. His website is adamperrylang