Rebecca Flint Marx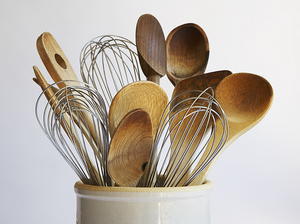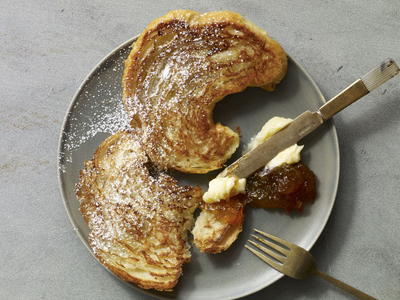 Rebecca's Featured Recipe
Seared Croissant with Honey Butter and Orange Marmalade
Hi there. I'm a senior editor at San Francisco Magazine, where I edit the food section. I began my job in February 2014 after more than two years as a full-time freelance writer and editor based in New York.
I'm a graduate of Bryn Mawr College and the Columbia University Graduate School of Journalism. I've worked at Entertainment Weekly, New York, Elle, and The Village Voice, where I spent two years as a staff writer for the food blog Fork in the Road. I've also served as the deputy editor of Edible Queens and as a contributing writer for CHOW.com, and have written stories about food and not-food for publications including The New York Times, New York, Saveur, WIRED, The Wall Street Journal, Gilt Taste, Gourmet Live, Elle, Salon, Lucky Peach, Every Day With Rachael Ray, Time Out NY, and The Art of Eating. My essay "From Sex Cake to Spurned Salad," written for Gilt Taste, won the 2013 IACP Bert Greene Award for Culinary Memoir. And my story "The Toxic, Abusive, Addictive, Supportive, Codependent Relationship Between Chefs and Yelp," written for San Francisco, won the 2015 James Beard Foundation Journalism Award for Food and Culture.
I am the co-author of two cookbooks: The Big Gay Ice Cream Book, published by Clarkson Potter in 2015, and The Basque Book, published by Ten Speed Press in April 2016.

I'm also a graduate of the French Culinary Institute, where I spent six months carving potatoes into minute football shapes and sweating profusely over a ragingly hot stove. I've experienced other, equally enlightening forms of culinary prostration in the kitchens of the Treats Truck, Zingerman's Delicatessen and Bake House, and a couple of other establishments best relegated to distant memory.

When I'm not in front of my computer, I can be found taking very long walks in the company of a big black mutt and having fever dreams about the Russ & Daughters display case.
Latest Recipes