Zuni Ricotta Gnocchi
Updated August 26, 2021
Cookbook
Published by W. W. Norton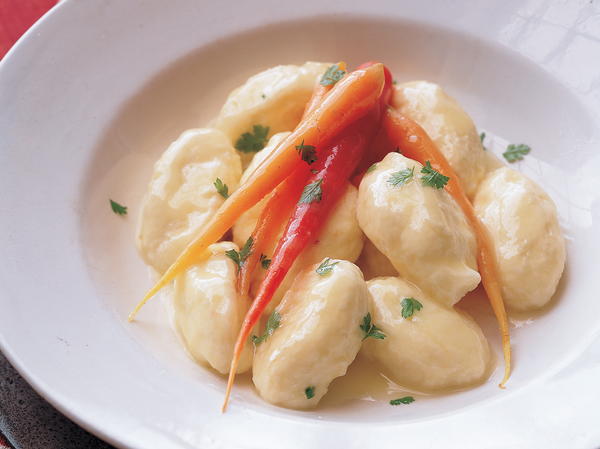 This image courtesy of Gentl & Hyers/Edge
This recipe, based on Elizabeth David's Gnocchi di Ricotta in her book Italian Food, has become one of our most-often-requested house formulas. Requiring fresh, curdy ricotta, it yields succulent, tender dumplings that always beguile. But since fresh ricotta varies in texture, flavor, and moisture content, depending on the season, what the animals are eating, who is making it, and how long they drain it, we often need to tinker with the recipe, adding more Parmigiano-Reggiano for flavor, or butter for richness. If the cheese is particularly wet, we add a little more egg, or we hang it overnight in cheesecloth, refrigerated (or we do both). Very wet ricotta can weep ½ cup liquid per pound. Don't substitute machine-packed supermarket ricotta here; flavor issues notwithstanding, mechanical packing churns and homogenizes the curds and water—you'll have trouble getting enough water back out. Tender fresh sheep's milk ricotta, if you can get it, makes delicious gnocchi and is worth the extra expense. Having offered ricotta gnocchi four or five evenings per week for more than a decade, we have a large repertory of accompaniments for, and variations on, this dish. We sometimes add freshly grated nutmeg, chopped lemon zest, or chopped sage stewed in butter to the batter before it forms into the gnocchi. Or we form thumbnail-sized gnocchi and poach them in chicken broth for a delicate soup course. One of the nicest variations is to fold flecks of barely cooked spinach into the batter. These Spinach and Ricotta Gnocchi recall the Florentine mainstay, variously called ravioli Verdi ("green ravioli"), ignudi ("naked" ravioli), or malfatti ("poorly fashioned," which they needn't be), and are sublime. Although these gnocchi are delicious and delicate enough to serve with just a cloak of melted butter, I list my favorite seasonal accompaniments at the end of the recipe to provoke you to think of serving ricotta gnocchi often, and year-round.
NotesWine: Chehalem Willamette Valley Pinot Gris, 2000

Freezing ricotta gnocchi:

Since you may not want to cook all your gnocchi at once, and they don't keep long raw, it is useful to know how you can freeze and cook them later. The results may not be quite as delicate and flavorful as fresh dumplings, and will be more wrinkly, but they are still delicious. Be aware that uncareful freezing and cooking, however, will fail utterly.

Place the raw gnocchi, still widely spaced on their floured tray (or transfer to a smaller floured tray if appropriate), in the freezer. Don't cover, or they may sweat before they solidify. Once they are frozen hard, slide the gnocchi, tray and all, into a plastic bag, tie the end and keep frozen until needed.

Cooking frozen ricotta gnocchi:

Remove gnocchi from the freezer, slide off the plastic bag, and separate any gnocchi that have rolled together during storage. Thaw completely in a cool spot or in the refrigerator. Frozen, or partially frozen, they will not cook properly. Cook as directed for fresh gnocchi.

Serving Suggestion:

The mild flavor of the ricotta marries well with many other flavors and ingredients, especially sweet, subtle, or nutty ones. Whatever the companion, it should be tender and delicate—like the gnocchi themselves.

Try serving the dumplings with a few leaves of sage, arugula, or spinach wilted in butter, or roll in melted butter with just-cooked baby carrots and fresh chervil. Or pair with tender flageolets finished with extra-virgin olive oil and black pepper. Or fold in matchsticks of just-cooked zucchini; its subtle flavor becomes clearer next to these gnocchi. In the spring, we offer them with barely cooked peas, tiny favas, or finely slivered asparagus, or all three. During summer, we match them with fresh white corn kernels cooked in butter with basil, or scatter them with chopped nasturtium blossoms. When tender-skinned Sungold Sweet 100 tomatoes are at their sweetest, we halve them, warm them in extra-virgin olive oil with basil, and toss them over the gnocchi. In the fall, fresh wild mushrooms slivered, stewed, and finished with white truffle oil are delicious with the gnocchi, and in the winter, whenever we have black truffles in the house, we shave some generously over the dish.
Serves40 to 80 gnocchi, to serve 4 to 6
OccasionCasual Dinner Party, Cooking for a date
Recipe CourseHot Appetizer, Main Course
Dietary ConsiderationHalal, Kosher, Low Carb, Peanut Free, Soy Free, Tree Nut Free, Vegetarian
Five Ingredients or LessYes
Taste and TextureButtery, Cheesy, Creamy, Rich, Savory
Ingredients
1 pound fresh ricotta (2 cups)
2 large cold eggs, lightly beaten
1 tablespoon unsalted butter
2 or 3 fresh sage leaves, chopped, or a few pinches of freshly grated nutmeg, or a few pinches of chopped lemon zest (all optional)
½ ounce Parmigiano-Reggiano, grated (about ¼ cup very lightly packed)
About ¼ teaspoon salt (a little more if using kosher salt)
All purpose flour, for forming the gnocchi
8 tablespoons butter, sliced
2 teaspoons water
Instructions
Testing the cheese (the day before you make the gnocchi):

Check the cheese for wetness. If you are lucky enough to have an individual basket-drained-ricotta—you'll see the basket imprint or dimples on the cheese—it may be sitting in a little whey; in this case, slide it out the container and wick away the surface moisture with a dry towel. With any ricotta, place about 2 teaspoons of the cheese on a dry paper towel and wait for about 1 minute. There will always be a little wet spot under and around the cheese, but if the cheese has thrown a wide ring of moisture, it is too wet to use as is. Place it in a strainer, or double-wrap in cheesecloth, and suspend over a deeper receptacle to drain for 8 to 24 hours, refrigerated. Cheesecloth is more efficient, as it also wicks moisture from the cheese while gravity does its job of draining. You can also speed up the draining operation by cinching the cheesecloth tight and squeezing some of the moisture from the ball of cheese.

Beat the ricotta vigorously, then smash a little cheese against the side of the bowl with a soft rubber spatula. If you can still make out firm curds, press the cheese through a strainer to break them up. Stir in the eggs. Melt the 1 tablespoon of butter—with the chopped sage, if using—and add to the batter. Add the nutmeg or lemon zest, if using. Add the Parmigiano and salt and beat the whole mixture very well. This is what will make the gnocchi light. you should have a soft, fluffy batter.

Forming and testing a sample gnocchi:

Make a bed of flour about ½ inch deep in a shallow baking dish or on a sheet pan.

Scrape the sides of the bowl, mass the batter, and smooth its surface. Use a spoon held at an angle to shallow-scoop out 2 to 3 tablespoons of batter. Use your fingertip to push the almond-shaped scoop of batter cleanly from the bowl of the spoon onto the bed of flour. Shimmy the pan gently to coat its sides, then flip the gnocchi with your fingertip to coat the top. Lift from the flour and cradle and rock it in your palm. Don't squeeze it. You should have a dusty oval pod. As long as the general shape is uniform and rotund, don't worry that the gnocchi has a few wrinkles, dimples, or bumps.

To check the batter, poach this first gnocchi in a small pot of simmering well-salted water. It will initially sink but will then swell, roll and bob to the surface. Maintaining the quiet simmer, cook until the gnocchi is just firm, usually 3 to 5 minutes from the time it floats, depending on the cheese and the size of the gnocchi. Don't boil hard, or the gnocchi may explode. If, even at a gentle simmer, the gnocchi spreads or starts to decompose, the cheese was probably too wet. This can usually be corrected by beating a teaspoon or so of egg white into the remaining batter. If the batter was very fluffy, but the sample seems heavy, beat in about 1 teaspoon beaten egg. In either case, poach another sample to make sure the fix is successful.

Taste the sample for salt, and adjust the batter if needed.

Forming the remaining gnocchi:

Use the same spoon-and-finger technique to form the rest of the gnocchi. I usually form them in groups of 4 to 6, placing them all at the same angle, and a few inches apart, in the bed of flour, then shimmy the pan to coat all of them at once; don't leave them sitting too long in the flour, or they will absorb too much. Keep scraping the bowl and smoothing the surface of the batter to permit smooth scoops. As with the sample, roll each gnocchi in your hand. Arrange them on a sheet pan lined with a flour-dusted sheet of parchment paper or wax paper. Be sure that the individual gnocchi are not touching one another.

You can poach the gnocchi right away, but if you refrigerate them uncovered for about an hour, they will firm up, making them easier to cook and handle. (They will keep for up to 8 hours that way).

Place the 8 tablespoons of butter and the 2 teaspoons of water in a 12-inch skillet; set aside.

Bring 2 to 3 quarts water to a simmer in a wide pan—10 or more inches in diameter, so the gnocchi won't crush each other too much as they push to the surface. A sauté pan, flared braiser, or saucier pan will work, as long as it is at least 2 inches deep. Salt the water liberally—about 1 teaspoon per quart. Add the gnocchi one by one, adjusting the heat to maintain the simmer. Dip your fingertips in water if you find they are sticking to the gnocchi, but don't fret if the gnocchi stick a little to the paper. Do avoid holding the tray of gnocchi in the steam. Cook the gnocchi as you did the sample, until just firm, 3 to 5 minutes from the time they float.

Meanwhile, as soon as the gnocchi float to the surface, place the pan of butter and water over medium heat. Swirl the pan as the butter melts and begins to seethe. As soon as the butter is completely melted and has turned into an opaque pale yellow sauce, turn off the heat. Swirl the pan a few more times.

Lift the gnocchi out with a slotted spoon or skimmer, slide into the ready skillet, and roll in the warm butter sauce. Serve instantly in warm bowls.

Variation: Spinach and Ricotta Gnocchi

Prepare the batter as above. Warm an additional tablespoon of butter in a 10-inch skillet over low heat. Add a few handfuls of spinach leaves—about 2 ounces. Salt lightly and, stirring and folding constantly, cook until the spinach is completely wilted but still vibrant green, 1 to 2 minutes. Slide onto a clean towel, cover with another towel, and press to extract the moisture. (The spinach will bleed green into the towel.) Peel off the spinach and chop into bits the size of fresh thyme leaves. Don't chop fine, and don't purée, or you will sacrifice the nice texture and burst of flavor it promises. Beat the spinach flecks into the prepared batter, then form and cook the gnocchi as described above.
2002 Judy Rodgers
YOUR RECENTLY VIEWED RECIPES
Free recipes, giveaways, exclusive partner offers, and more straight to your inbox!