Zucchini "Meatballs"
Cookbook
Published by Knopf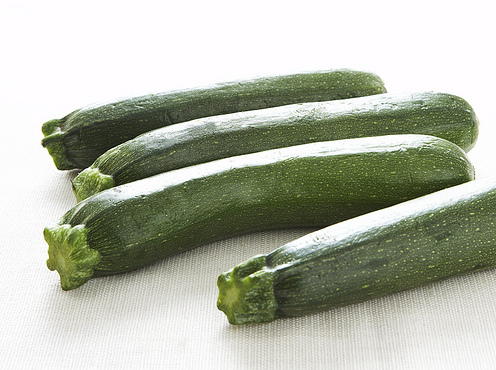 An exquisitely elegant dish, it consists of tender "meatballs" made out of grated zucchini, bathed in a creamy, spicy sauce. In India, a long green squash, shaped rather like a bowling pin, is used for this dish. If you can find such a squash in Chinese or Indian grocery stores, do use it. It needs to be peeled and seeded before it is grated. If you cannot find it, zucchini makes an excellent substitute.
16 "meatballs" and serves 4-6 people
OccasionBuffet, Casual Dinner Party
Dietary Considerationvegetarian
Taste and Texturecreamy, savory, spiced
Ingredients
3 medium-sized zucchini (about 1 to 1¼ pounds)
½ teaspoon salt
About 1 fresh hot green chili, minced
3 tablespoons finely minced onion
½ teaspoon peeled and very finely grated fresh ginger
2 tablespoons finely minced Chinese parsley
1/3 cup chickpea flour
Vegetable oil for deep frying
5 tablespoons vegetable oil from deep frying
2 medium-sized onions, peeled and very finely minced
¼ teaspoon ground turmeric
1/16 teaspoon cayenne pepper
1 teaspoon ground cumin seeds
2 teaspoons ground coriander seeds
½ pound tomatoes (about 2 tomatoes), peeled and finely minced
1 cup heavy cream
½ teaspoon garam masala
½ teaspoon ground roasted cumin seeds
¼ to 1/3 teaspoon salt
Instructions
Wash, trim, and grate the zucchini. Put it into a bowl and sprinkle it with the ½ teaspoon salt. Set it aside for half an hour.

Squeeze as much liquid as possible out of the zucchini by pressing handfuls of it between your two palms. Save this zucchini liquid for the sauce.

Dry off the bowl and put the zucchini back in it.

Add the minced chili (you may want to use more than 1 chili, depending on your taste), the 3 tablespoons minced onion, the grated ginger, and the Chinese parsley.

Sift the chickpea flour over this vegetable mixture. Mix well and form 16 neat balls.

In a skillet, wok, or other utensil for deep frying, heat about 1½ inches of oil over a medium flame (a wok should have 1½ inches at its center).

When hot, put in 5 to 6 of the balls, or as many as the utensil will hold easily in one layer.

Fry for about l½ minutes, or until the balls turn a rich, reddish-brown color. Turn the balls every now and then as they fry.

Remove them with a slotted spoon when they are done and leave to drain on a plate lined with paper towels. Do all the "meatballs" this way.

To make the sauce, remove 5 tablespoons of the oil used in deep frying and put this in a 10-inch skillet or sauté pan. Heat the oil over a medium flame. When hot, put in the minced onions. Stir and fry for 7 to 8 minutes or until the onions begin to turn brown at the edges.

Take the pan off the fire for a couple of seconds and add the turmeric, cayenne, ground cumin, and ground coriander. Stir once and put the pan back on the fire.

Stir for another 5 seconds and then add the minced tomatoes. Stir and fry on medium heat for 5 minutes. Add the zucchini juice. (You need 1 cup; if you have less, add some water.) Bring to a boil.

Cover, lower heat and let the sauce simmer gently for 15 minutes. (This much of the recipe may be prepared several hours ahead of time.)

Add the cream, garam masala, ground roasted cumin, and the ¼ to 1/3 teaspoon salt. Mix well, bring to a simmer and cook for 1 minute.

Now put in the "meatballs." Spoon the sauce over them. Cover, and simmer very gently for 6 to 7 minutes. Spoon the sauce over the "meatballs" a few times during this cooking period.

These "meatballs" turn very soft when cooked in the sauce, so handle them gently and serve immediately.
1981 Madhur Jaffrey
YOUR RECENTLY VIEWED RECIPES
Free recipes, giveaways, exclusive partner offers, and more straight to your inbox!