Vietnamese Braised Scallops
Cookbook
Published by W. W. Norton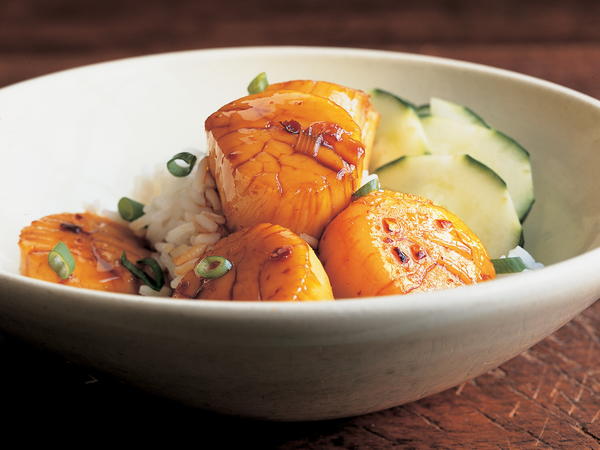 This image courtesy of Gentl & Hyers/Edge
Braising seafood, meats, and even tofu in a thick caramel sauce is a classic Vietnamese technique, referred to as kho. The dark caramel sauce, made with sugar, fish sauce, and shallots, is not at all sugary, but instead full of spicy-salty nuances—the perfect foil for sweet, meaty sea scallops. Since scallops are naturally tender, they braise in less time than it takes to make the sauce. In place of scallops, thick chunks of any meaty white fish fillet, such as halibut, monkfish, or cod, would do well. While the traditional vessel for kho is an earthenware crock that goes from the top of the stove to the table, a heavy-based skillet works just as well. To serve, set the scallops on a bed of jasmine rice and spoon the dark sauce over the top. Pass a bowl of thinly sliced cucumber dressed with rice wine vinegar at the table.
NotesShopping for Sea Scallops:

Be sure to buy "dry" sea scallops at the market. If they aren't labeled, ask. The less expensive, and much inferior, alternative is "wet" scallops, which have been soaked in a sodium phosphate solution to plump them and extend their shelf life. Besides bearing a label that should say something like "25 percent water added," wet scallops will look watery and milky. Not only do you end up paying for water that then leaks out the minute the scallops hit a hot pan, making sautéing them difficult; but the flavor of these scallops is chemical-tainted and rather nasty. If wet scallops are all you can find, change your menu.

Chinese Brown Sugar:

The traditional basis for kho is an unrefined cane sugar, found in Asian markets as Chinese brown sugar or slab sugar, or as panela in Latin markets. This hard sugar comes in caramel-colored wafers or slabs that you dissolve in water to make a quick caramel. The same results can be obtained using ordinary granulated sugar cooked to caramel, the main difference being that there isn't the fear of having the sugar seize and crystallize with slab sugar, so there's not the concern of overstirring.

Wine Notes:

Light-bodied white with a touch of sweetness and crisp acidity—off-dry Chenin Blanc from California or Washington state, or Riesling from Germany.

Working Ahead:

The caramel braising sauce can be made weeks in advance and kept in a jar in the refrigerator until you're ready to braise (Steps 1 and 2).
Serves4
Total Timeunder 30 minutes
OccasionCasual Dinner Party
Dietary Considerationegg-free, gluten-free, high-calcium, lactose-free, low-fat, peanut free, soy free, tree nut free
Taste and Texturesavory, spiced, sweet, umami
Ingredients
½ cup water (6 tablespoons if using Chinese brown sugar)
¼ cup Asian fish sauce
1/3 cup granulated sugar or 2½ ounces Chinese brown sugar (see Notes)
2 shallots, minced
1½ pounds sea scallops (see Notes)
½ teaspoon crushed red pepper flakes
2 scallions, thinly sliced, white and green parts kept separate
Instructions
Make the caramel: Combine 1/4 cup water with the fish sauce in a glass measuring cup and set aside. If using granulated sugar, put it in a heavy-based skillet just large enough to hold the scallops in a single layer. Pour over the remaining ¼ cup water and let it sit for a minute to soak in. Heat the skillet over medium heat until the sugar liquefies. You can shake or swirl the pan or stir with a wooden spoon once or twice so the sugar melts evenly, but don't stir constantly. Once the contents of the saucepan have liquefied entirely (the sugar will be clear with faint traces of amber around the edges), don't stir at all, or you risk crystallizing the sugar. If the sugar appears to be boiling unevenly, swirl the pan a little to even it out, but avoid disturbing it or swirling it too frequently. The sugar will begin to caramelize and darken quickly, so stay close by to monitor its progress. Continue to boil until the caramel is a deep reddish brown, but not black, 8 to 10 minutes. When the caramel begins to smoke a bit around the edges and smells very toasty, it is ready. You're after a very dark caramel—one that is very nearly burnt. If you've only ever made caramel for desserts, don't be afraid to take this one further. (Since this is such a shallow amount of caramel, I've never had any success using a candy thermometer for this dish. If you want to try, aim for a temperature in the range of 370 to 375 degrees.)

If using Chinese slab sugar, combine it with 2 tablespoons water in the skillet over medium heat. Heat, stirring frequently with a wooden spoon to break up the sugar, until the sugar dissolves, about 4 minutes. Slab sugar eliminates the fear of having the sugar seize and crystallize, so there's no concern of overstirring. Reduce the heat to medium-low, and let the caramel bubble, stirring frequently, until it becomes a deep reddish brown, but not mahogany or black, 3 to 4 minutes.

Adding the water and fish sauce: Standing back and pouring slowly so the caramel does not boil over, add the water and fish sauce mixture. Don't worry if the caramel hardens; it will melt again as it boils. Stir and let the caramel boil until you have a smooth, thick sauce, about 4 minutes. Add the shallots, reduce the heat to low, and simmer for 2 minutes. Set the pan aside. (You can make the caramel sauce ahead and keep it refrigerated in a jar for weeks.)

Trimming the scallops: Examine the scallops. Most come with an opaque squareish hard bit attached to one side. This is a muscle that attaches the scallop to the shell and while not inedible, it is neither sweet nor tender and is best removed. Do so by taking hold of this little muscle with one hand and pulling: it will strip off easily.

Braising the scallops: Bring the caramel sauce back to a very low simmer over medium-low heat in the same skillet you made it. Stir in the red pepper flakes and the white part of the scallions. Add the scallops in a single layer, partially cover, and simmer very gently for 4 or 5 minutes. Gently turn the scallops, using a small spatula or a pair of tongs, and continue to simmer until just cooked through, another 3 to 5 minutes. If unsure, nick a single scallop with a sharp thin-bladed knife and peek to check that there is just the slightest bit of translucence in the center.

Serving: Transfer the scallops to warm plates and spoon over some of the sauce. Garnish with the scallion greens and serve immediately.
2004 Molly Stevens
YOUR RECENTLY VIEWED RECIPES
Free recipes, giveaways, exclusive partner offers, and more straight to your inbox!